United Arab Emirates - مطار أبو ظبي الدولي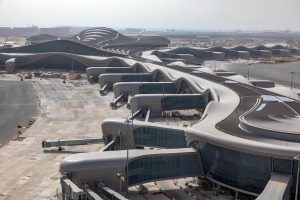 Abu Dhabi International Airport is the sole international airport in the Emirate of Abu Dhabi and second busiest in the United Arab Emirates.
The airport is located around 30 kilometres east of Abu Dhabi city.  serving around 10.6 million passengers in 2019. It has three operational passenger terminals.
Abu Dhabi Airports and Etihad Cargo, the cargo and logistics services arm of the Etihad Aviation Group, have announced a major project to develop Abu Dhabi International Airport into a state-of-the-art global air cargo centre of excellence.
Additional Details
Runway: Two: 2 x 4,100 metres
International destinations: Global
Cargo throughput: 147,800 tonnes (2019)
Internet & Telephone
There is no reason to be out of touch at the airport. Connect to our free wireless network, access one of our many free-to-use internet kiosks or make a call from a pay phone.
Free wireless internet
Wherever you are in Abu Dhabi International Airport, there is a free wireless internet (WiFi) connection available. To connect to the network, follow these simple steps:
Search for wireless network from your device or laptop.
Connect to the network named "ADAC Free Wireless
Once the ADAC welcome box appears, click "ACCEPT". You will be redirected to Abu Dhabi International Airport's website landing page
You now have internet access. Enjoy!
Free wireless internet kiosks
Browse the internet or check your email from one of 50 internet kiosks conveniently located in the Departure areas of all three airport terminals. Access is free of charge. To find an internet kiosk close to you, view a map of your terminal.
Airport lounges
Most of the airport lounges offer PCs, laptops, internet and wireless connections and fax machines.
Pay phones
You will find Etisalat phone booths in whichever terminal you are flying from. Find the pay phone nearest to you using this handy tool.
You will be able to buy phone cards from any of the newsagents or book stores. Find these stores here.
Banking Services & Currency Exchange
You will find a host of international and local banks offering ATMs for cash withdrawals, transfers and deposits, as well as some branches which provide full transactional support for all your banking needs.
With 16 specialist currency exchange providers, you are never far from this essential service at Abu Dhabi International Airport.
Several local banks also offer foreign exchange services at reasonable rates.
To find a bank close to you, view a map of your terminal
Locate your nearest branch using this tool.
Reserve your foreign currency online & pick it up at Abu Dhabi International Airport
Travelex, the world's leading foreign exchange specialist provides the convenience of reserving your foreign currency or travel money online.
Travelex is best known for supplying foreign currency products with over 1,350 stores and 1,200 ATMs across 26 countries, at key airport and tourist locations.
With over 40 currencies available, this simple online reservation process makes buying your foreign currency quick and easy.
Save time & money when you reserve online:
0% commission, no fees.
Best Travelex exchange rate guaranteed! If the store price is better, you will be upgraded to the best rate.
We have 7 Travelex stores at Abu Dhabi International Airport for you to collect your online order from.
Next day collection available (on our most popular currencies).
Payment on collection only.
Abu Dhabi Airport hotel
Take a break during your journey at the Abu Dhabi Airport Hotel in Terminal 1 (view map), specifically designed to accommodate travellers in transit.
It is a one-of-a-kind airport transit hotel in Abu Dhabi International Airport to provide travellers in transit with both excellent accommodation and convenient booking hours. The hotel is located on Level 1 in Terminal 1 at International Departures (turn right after Passport / Security Control).
The 38-room facility has been stylishly decorated using marble, stone and high-quality fabrics, and each room has been furnished with luxury bedding, powerful shower facilities, resilient support mattress, various pillow options and complimentary bath amenities. Guests can also enjoy complimentary Wi-Fi access, wake-up call, tea and coffee. 
The Solo room best serves single guests who require a quick power sleep. This room is equipped with 1 single bed.
The Double Plus room offers a homely experience for guests who require personal space to unwind and relax. This room is equipped with 2 super single beds.
The Double Squared room features a spacious area for families. This room is equipped with 2 queen size beds.
| | | | |
| --- | --- | --- | --- |
| Room Category | Solo room | Double Plus | Double Squared |
| Price (AED) | 262.50 | 472.50 | 630 |
*All above prices are based on 6 hours stay. Prices are inclusive of service charge and prevailing applicable local taxes.