Bangladesh - বঙ্গবন্ধু শেখ মুজিব শিল্পনগরী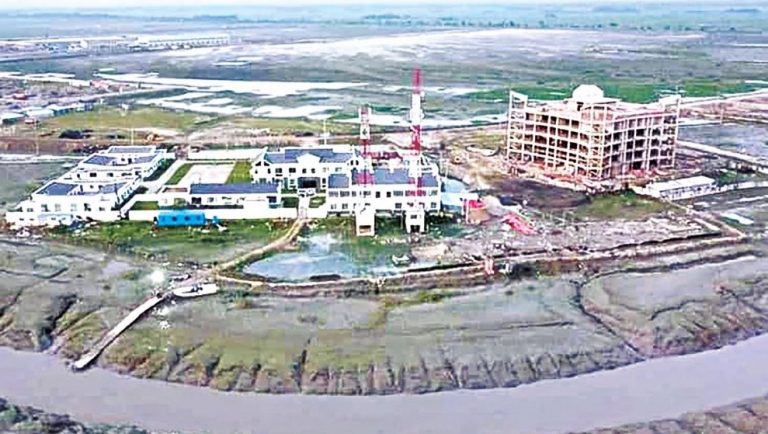 Bangabandhu Sheikh Mujib Industrial City is one of the most suitable sites of Bangladesh for setting up industrial establishments. It is along the strategic location of Dhaka-Chattogram industrial corridor. In Chattogram division, business costs and the cost of living are significantly lower than those of the other competing cities of the world. Chattogram (Chittagong), is an attractive destination for setting up huge number of industries, commercial establishments and financial institutions.
The city has a high quality business friendly environment. At present, 30,000 acres are planned for the long term development of the area. Bangabandhu Sheikh Mujib Industrial City, the first planned city of the country, will pave the way for establishing a truly world-class business and industrial center. BEZA is in the process of developing a comprehensive master plan for developing this self-contained Industrial City including, incorporating a Seaport, Rail Connectivity, Residential Area, Tourism Park, Power Plant, Hospital and educational establishments.
Additional Details
Key industrial sectors: Garments & Garment Supporting Industries Agro-products and agro-processing products IntegratedTextiles Leather and leather products — Shipbuilding Motorbike Assembly
Workforce: Planned 1,500,000 within 15 years
Seaport: Chittagong Port 67 km

5 Day - Bangladesh Nature & Culture Tour - $555.00
from:
Viator, A Tripadvisor Company
The BSMSN site is located 200 kilometers (km) from Dhaka, 60 km from Chattogram, 70 km from Chattogram Port and the Shah Amanat International Airport and 330 km from Sylhet. The BSMSN Master Plan area is covered in the two districts, three upazilas, and 6 unions and comprised of 26 mouzas.
The estate has a total land area of 33,805 acres or 136.86 square kilometers (km2) (mostly reclaimed land) with a 25 km coastline along the Sandwip Channel in the Bay of Bengal. Land elevation on the site varies from the site's lowest point at -3.33 meters (m) MSL to the highest point at +8.71m MSL.
Before development of the BSMSN, the site was comprised of: i) 27.6% idle/barren lands, ii)31.65%mangroves/forest/vegetation, iii) 8.71% water bodies/canals and iv) 6.53% under development. The site location is a moderate to high monsoon climatic area with an average annual rainfall of 500mm. Average temperature on the site varies between 15-25 degrees Celsius annually.
Location of BSMSN
District
Upazila
Union

Chattogram

Feni

Mirsarai
Saherkhali
Ichhakhali
Sitakunda
Muradpur
Saidpur
Sonagazi
Sonagazi
Char Chandina
The value proposition:
BSMSN is the flagship, 'smart city/economic zone' project for Bangladesh and a 'game changer' in economic zone design and development.
To be the premier, international work, live, play location and an urban/industrial hub in South Asia.
Strategically located for easy access to domestic and international markets.
Offering a multi-modal transport and logistics platform incorporating a port, rail, roads and airport connectivity to reduce congestion, delays, costs and increase efficiencies as well as strengthen supply chains.
Spearheading state-of-the-art, green and resilient infrastructure, utilities and technology to make BSMSN competitive, efficient, sustainable and resilient.
Targeting innovative foreign and domestic investors.
Promoting exports, clean industry/manufacturing, value addition production utilizing cutting-edge technology, and supporting new industry trends and enhanced creativity.
Aids in transferring knowledge, technology and innovation to local entrepreneurs, professionals and workers
Offering a safe and secure environment, which is monitored on a 24/7 basis for investors, residents, workers, and visitors
Providing an OSS with streamlined and fast-tracked processes and procedures as well as after-care facilitation
Offering a competitive labour pool with new types of professional, technical, skilled and unskilled jobs for Bangladeshi
The BSMSN Master Plan sets out:
i) land uses, ii) access and transport networks, iii) precinct boundaries and characteristics, iv) zoning and permitted uses, v) development guidelines, and iv) environmental and green resilient rules to follow when implementing the zone. The BSMSN site has been divided into 12 separate precincts, which have their own land uses. Although specific plots have not been assigned in the master plan (except for within the industrial areas), it is intended that real estate projects following the designated/assigned land uses and design guidelines will be constructed over time and sold/leased at competitive market rates. The precincts, (their land use and size) for BSMSN are identified below.
BSMSN Precincts by Size:
No.
Precinct
Land Use Designation
Size in Acres
Size in %
1.
A
Residential and Support Amenities
4,606.57
13.63
2.
B
City Center/Business Hub
1,732.91
5.13
3.
C
Health and Education Center
837.35
2.48
4.
D
Mixed Use/Residential
1,778.59
5.26
5.
E
Administrative/Institutional Center
880.68
2.61
6.
F
Light/Medium Industrial Area
10,043.12
29.71
7.
G
Port and Logistics Hub
1,802.29
5.32
8.
H
Forest/Transitional Area
1,778.75
5.26
9.
I
Heavy Industrial Area
3,956.35
11.70
10.
J
Open Space
5,980.42
17.69
11.
K
Leisure/Entertainment Area
350.89
1.04
12.
L
Cultural Center
56.85
0.17
 
Total Area4
33,804.76
100
 
 
 
 
 
 
BEZA's Target

Developed a planned Industrial City adjoining Mirsarai and Feni EZ on 33,805 acres of land;
Employment for 1.5 million people within next 15 years
Ensure $15 billion export from this industrial enclave
Potential Investment Sector
Garments & Garment Supporting Industries
Agro-products and agro-processing products
IntegratedTextiles
Leather and leather products —
Shipbuilding
Motorbike Assembly
Food & Beverage
Paint & Chemical
Paper & Products
Plastics
Light engineering ( including auto-parts and bicycles)
Pharmaceutical products
Power
Solar Park
Why Bangabandhu Sheikh Mujib Shilpa Nagar?
Direct access to waterways
Well connected with national highways
Chittagong Sea andAir port only 67KM from the site
Attractive of foreign investors
Availability of hassle free land
Comprehensive government initiative to ensure gas, electricity, sweet water, access road, railways and sea port.
Potential Industrial Hub of Bangladesh
Major Highlights
Fully government-owned
Near to Chittagong port
Vacant land, easy to initiate
Offsite utility provisions
Great potential for expansion
Detailed feasibility of the site is being conducted now. Please contact us later for more information.
Key Site Facts
| Criteria | Facts |
| --- | --- |
| Location | Mirsarai, Sitakunda, Sonagazi |
| Size (acre) | 33,804.76 |
| Ownership | Government |
| Connectivity | Well connected |
| Mirershorai | Seaside |
| Labor Source | Mixed |
| Closets Port | Chottogram |
BEPZA Economic Zone. The brand image of BEPZA will play an important role for flourishing investment in economic zone in quicker paces.