Thailand - ท่าอากาศยานนานาชาติดอนเมือง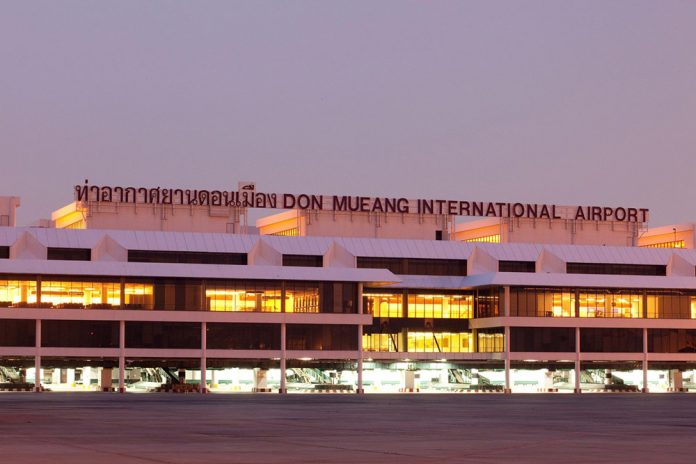 Don Mueang International Airport is now the second airport in Bangkok and mostly serves either low cost carriers or domestic flights to and from Thailand. A new metro line connects the airport with the city centre. It was completed and operational at the end of 2022. There are two runways: 3,700 & 3,500 metres.
Since August 2021, the SRT Dark Red Line train service (commuter rail) allows you to quickly travel from Bangkok Don Mueang Airport in the direction of the city. The airport station is located opposite the terminals and can be reached via a skywalk from T2 / Domestic Terminal. By foot it takes 6 to 7 minutes, if you travel with a lot of luggage, at least 10 minutes. In that case, it is recommended to take a taxi from Bangkok Don Mueang Airport.
Travel time from the airport via Lak Si (Express and Ordinary trains) and Bang Khen (Express and Ordinary trains) and Nikhom Rotphai Khomo Sip-Et (Ordinary trains only) to Bang Sue Grand Station is 22 to 26 minutes. Tickets are available at the stations, the price for a single journey is 12 BHT. At the railway station of Bangkok Don Mueang Airport you will find several ticket machines. SRT Dark Red Line runs every 15 to 30 minutes towards Bang Sue and the airport.

Private Transfer from Don Mueang (DMK) Airport to U-Tapao Airport - $111.28
from:
Viator, A Tripadvisor Company
Thai Ground Services at Don Muang International Airport
Provide passenger and ramp handling with a combination of standard procedure and multiple full set of wide-body and narrow body supporting equipment to service all type of aircraft.

Ramp Equipment
Aircraft Towing Tractor up to B747
Air Condition Unit
Air Starter Unit
Baggage Cart
Cargo Cart
Cargo Tractor
Container Pallet Loader
Container Dolly
Conveyor Belt
Ground Power Unit
Pallet Dolly
Passenger Step Vehicle
Passenger Step Trail
Bus for passengers
Aircraft Towbar
Water Service Truck
Passenger Services
Check-in
Arrival Departure Handling
Lost Found
Operation Assistant
Dispatch/Flight Release/flight Filing
Crew and passenger accommodation
Flight permission (amendment)
Meteorological documentation
Aeronautical information
Flight movements
Asia Ground Service
Asia Ground Service Co., Ltd. (AGS) is the Cargo Terminal Operator providing warehouse and ground handling service in the airports.
We've operate domestic warehouse in Don Muang International Airport and many other domestic airports. Currently, we operate international warehouse in Don Muang International Airport.
AGS's services include:
• Cargo Terminal Operator : Domestic and International
• Ramp Service