United Arab Emirates - مطار دبي الدولي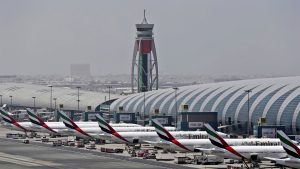 Dubai International Airport is the primary international airport serving Dubai, United Arab Emirates. It is the world's busiest airport by international passenger traffic. The airport served 86.4 million customers in 2019, connecting more than 240 destinations across six continents on more than 100 airlines.
Dubai International Airport world-class facilities include a USD1.2 billion Concourse D, a state of the art facility serving all international airlines that operate into Terminal 1, Concourse A – the world's first and largest purpose-built A380 facility that is one of the three Concourses used exclusively by Emirates airline, as well as Terminal 2.
Additional Details
Runway: Two: 4,450 metres and 4,000 metres
International destinations: Global
Cargo throughput: 2.5 millions tonnes
Search for industrial estates in Asia
Al Majlis VIP Terminal (DXB)
Our Al Majlis service embodies the meaning of a luxurious, sociable space, by providing a facility specially designed for our most prestigious customers.
Irrespective of your class of travel, Al Majlis eases your journey through the airport, speeding you through check-in, immigration and baggage clearance – even assisting with travel documentation – while you relax in our luxurious lounges.


Facilities
Customised Al Majlis catering menu, (breakfast, lunch and dinner) and beverages.
Dedicated BMW series 7 cars latest model transportation between the Al Majlis terminal and departure gates/ arriving flights.
Dedicated Dubai Duty Free outlet.
Convenient VIP parking and drop-off at the curbside for quick access.
Prayer rooms for men and women
Arrival/Departure at a VIP facility separate from the public terminals
All travel formalities including check in, immigration, and baggage are handled by a personal assistant
Personal assistant for Duty Free shopping
Location
The Al Majlis present operation and reservation is from the annex at Terminal 3 next to Exit 4 at departure level. The facility presently has a dedicated immigration and police screening areas only for VIP who use the Al Majlis facility.
Timings
Al Majlis reservation service is available 24/7 and customers may request or cancel services or make amendments through email ([email protected]). The reservation team consists of two reservation attendants and is responsible for promptly receiving and replying to all Al Majlis reservation related queries.

Although service requests may be made 24/7, a minimum of 24 hours lead time is required for all service requests. This is due the dedicated service and the pre-arrangements required. This would mean that service requests made for flight departures or arrivals within 24 hours will be refused.
Rates
AED 2500 per adult passenger.
AED 500 per child age between 3 and 12 year old.
Infant below 3 year old is free of charge.
A 5% VAT on the total amount of the reservation.
AED 20 government fees on each.
Dubai World Central (DWC) is Dubai's airport of the future.
Dubai World Central (DWC) is Dubai's airport of the future. DWC opened the doors to its 5-7 million capacity passenger terminal passengers on October 27, 2013, while cargo operations were launched much earlier on June 27, 2010. Upon completion, DWC will become the world's largest airport with an ultimate capacity of more than 160 million passengers and 12 million tonnes of cargo per annum. The airport forms the heart of a greater project, a 140 km2 multiphase development of six clustered zones that includes the Dubai Logistics City (DLC), Commercial City, Residential City, Aviation City and the Golf City.