Oman's economy, in similar fashion to the rest of the countries that make up the Gulf Cooperation Council (GCC), is significantly dependent on oil and gas. The correlation between fluctuating crude oil prices and GDP is high and therefore a constant cause for concern as it is in other GCC countries. This is especially stark with the future of oil under existential threat with greater reliance on renewables. The oil price shock, starting in 2014, was a glaring reminder of potentially what is expected to be a terminal decline the region's economic fortunes if such dependency continues.  
CHART: OMAN GDP PER CAPITA & PRICE OF BRENT CRUDE PER BARREL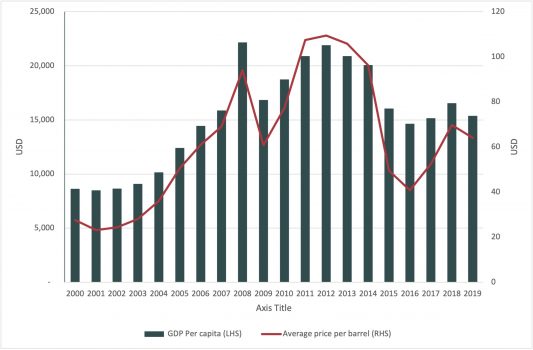 Hydrocarbons have generated between 70-85% of the government's revenues over the past thirty years and have allowed Oman to develop into what is termed a "High-Income Economy" according to the World Bank. However, GDP per capita is the lowest in the GCC and hydrocarbon revenues and reserves are also well below the other countries apart from Bahrain. Oman has an estimated 4.8 billion barrels of oil equivalent which represents around 25-30 years based on 2019 production levels before depletion. While future technology and improving reserves would help to extend this, demand for oil is expected to peak by around 2040 and prices of crude may continue a low long-term trend.  The Khazzan-Makarem gas field, which was put into operation in 2017, has been a boost with gas demand and prices likely to take a far more positive trajectory than its crude cousin in the longer-term future. But this will not be a game changer as reserves are far lower than those in Qatar and to a lesser extent Saudi Arabia.
Also, unlike notably Kuwait and Qatar, Oman has only a limited sovereign wealth fund that would help to maintain fiscal stability when oil revenues decline. The amount currently held amounts to around USD 3,540 per person. Therefore, given all these statistics Oman is far less placed on paper to cope with the decline and eventual end of hydrocarbons as an energy source. This has already presented serious fiscal imbalances which are likely to continue in the future. The COVID-19 pandemic hit Oman's economy hard with a 6.4% fall in GDP in 2020 on account of falling oil revenues as logistics slumped as well as other sectors of the economy such as construction, tourism and retail.
In the longer term, the Oman Vision 2040 was set up in 2013 with the aim to set the sultanate on a course of sustainable non-hydrocarbon related economic growth.   This replaced the old Oman Vision 2020 which was drafted in 1995, the objectives of which had already proved unattainable by the mid-2000's. While oil may be on the wane, visions are in plentiful supply in the region with Saudi Arabia, Kuwait, Bahrain, Qatar and Abu Dhabi all having broadly similar economic pathways albeit with differing time scales. Oman's need to diversify is more prescient given its lower oil reserves and limited sovereign savings. However, Oman has a number of advantages that could help to develop a strong non-oil based economy plus perhaps the incentive to do so and still with oil revenues to help develop these foundations. Two key sectors that are highlighted in the 2040 vision are manufacturing and logistics which are the source of the vast majority of industrial estate tenants globally and therefore the development of such estates along with other infrastructure is one of the keys to Oman's future prosperity. 
The dependence of hydrocarbons for the economy of Oman is demonstrated vividly in its export figures. Between the years 2010 to 2018 fuel exports accounted on average for 72% of total exports with some volatility and no discernable trends in either direction.
CHART: EXPORTS FROM OMAN BY VALUE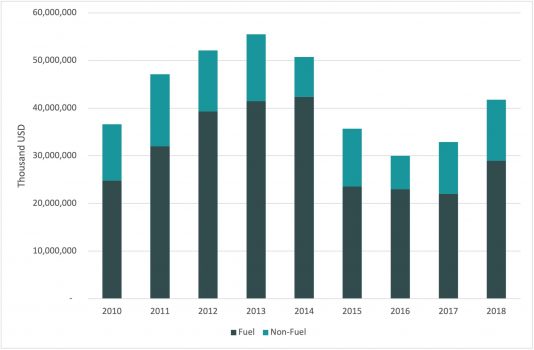 It is expected that for fuel exports a significant amount of volatility would occur over an extended period of time due to fluctuating crude and gas prices. For Oman non-fuel exports also are marked by dramatic movements, with export value in 2016 less than half the figure in 2011. For countries with significant manufacturing exports and a global market such inconstant numbers are rare. In Oman's case there are likely two main reasons for this difference. One is that many of its non-fuel exports are intermediate products based on oil refining and are usually priced as a margin of the crude oil price. Therefore, lower crude oil prices mean lower absolute margins.
The other reason is the geographical structure of exports by Oman. From 2011 to 2018 the overall proportion of non-fuel exports to the Middle East was 47% and the share has been rising over that time with the Middle East accounting for significantly more than half in 2018. One issue with this is that Middle Eastern countries are also largely dependent on hydrocarbon revenues so rises and falls in crude prices will have an impact also on non-fuel export revenues. Therefore, currently non-fuel exports do not provide a reliable hedge or buffer during low oil price periods. The key for an effective decoupling of Oman's economy from the vagaries of hydrocarbons is the development of a strong, globally focused export led strategy. Already changes are underway that could help this shift.
CHART –NON FUEL EXPORTS FROM OMAN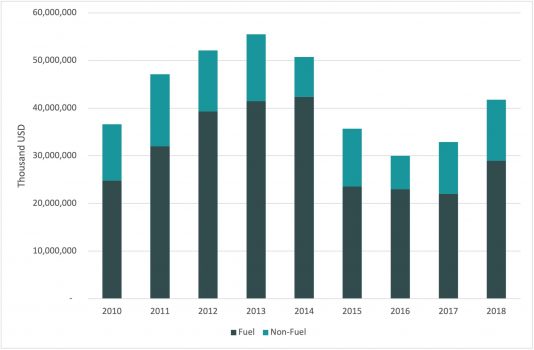 Oman's export growth to the Middle East, albeit erratic, is likely to be a consequence of the GCC Customs Union which was implemented in 2015 with no tariffs for intra-GCC trade and a common external tariff of 5%. Trade with gas-rich Qatar has been especially buoyant over the past few years. Although a free trade agreement was signed between the USA and Oman in 2009 with a complete phase out of duties taking place in 2018, this has done little to spur non-fuel exports between the two countries.
The largest proportion of non-fuel exports comes from organic chemicals which are derived from hydrocarbons using refining and petrochemical processes. Plastics and their associated products as well as fertilizer all constitute significant export sectors and are also developed from crude oil or non-gas liquids (NGLs) from its upstream natural gas fields.
While the largest proportion of crude oil is used for transportation purposes in the form of gasoline for cars and kerosene as aviation fuel, other heavier oils are produced in the refining process that can be processed using petrochemical facilities into a wide range of mostly chemical and plastic products that can be used in the production of almost every consumer good. NGLs in the form of ethane from upstream gas fields can also be processed to form the same or similar products. At present the bulk of exports from Oman is in form of primary or intermediate goods from hydrocarbons and, to a lesser-extent, materials from mining. The future success of Oman's diversification is for the country to host manufacturing that utilizes these raw materials for downstream consumer products. This would lead to not only opening up to a wider global market but critically revenue would reflect market pricing for more consumer related exports as opposed to marginal pricing based on crude oil prices from primary and intermediate hydrocarbon products. This would likely lead to more reliable revenue streams.
One of the main drivers for economic development in Armenia is its membership of the Eurasian Economic Union beginning in 2015. This consists of a number of former Soviet republics but is dominated by Russia which is now Armenia's largest trading partner, overtaking the European Union. Freedom of movement and a common external tariff means exports to Russia have surged since 2015. Switzerland has become a major player in Armenia's export scene although this is primarily due to gold exports.
CHART – NON-FUEL EXPORTS BY PRODUCT FROM OMAN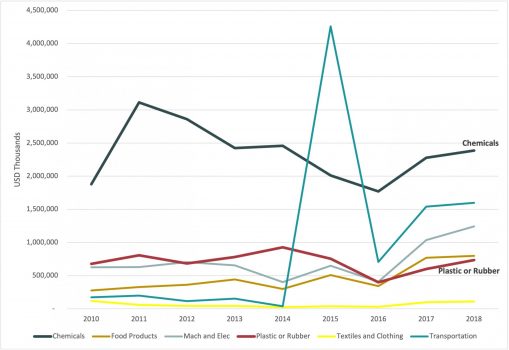 Of the non-fuel exports chemicals have provided the largest contribution although somewhat erratic. Transportation in the form of mostly crude oil tanker conversions and repairs has been a strong contributor especially with the opening of a new USD1.6 billion shipyard by Oman Drydock Company in the Port of Duqm in 2015.
Chemicals and plastics are the two key byproducts from hydrocarbons and their relationship is intertwined. Chemicals in the form of ethylene provide the main components of plastics in the form of propylene and polypropylene. An important proportion of the chemicals are developed as fertilizer which has a direct use in agriculture, but most chemicals exported are intermediate with limited value-added processing. Developing such organic chemicals into products further up the value chain such as plastics is essential.  Plastics form part of a wide range of products such food packaging and textiles. With an abundance of essential raw materials available for manufacturing the next stage of Oman's industrial development is for a growth in consumer-focused products where hydrocarbon products are an important constituent.
A number of countries in the GCC are now focusing investment in what is known as crude oil to chemical (COTC) technology which consists of very large, complex and expensive combined refinery and petrochemical plants that can produce predominantly ethylene from steam cracking and benzene, toluene and especially propylene from a number of processes. China has been at the forefront of this mega-trend but Saudi Arabia as led Middle Eastern efforts – but Oman is also partaking in this as well with large investment projects. This starts with refining the crude oil.
Refining
Refining is the first stage of breaking down crude oil through the process of distillation into broad categories of hydrocarbons, especially gasoline which is the essential fuel for cars but also naphtha and heavy oils which are then further processed. Currently two refineries are in operation with Mina Al Fahal refinery near the capital Muscat, refining around 104,000 barrels per day (p/d).  This was the first facility for the storage and  transportation of Omani oil in the 1960's. The SOHAR refinery has around double the capacity of Mina Al Fahal bringing total refining capacity in Oman to over 300,000 barrels a day and is an essential part of the overall COTC structure taking root in the country. Nevertheless, Oman produces around one million barrels a day so most is still exported. A major new two billion UD dollar refinery is being constructed in the emerging industrial zone of Duqm which is due to be completed in 2022 and is expected to process around 230,000 b/d, thus increasing Oman's overall refining capacity to over half a million b/d.
Natural Gas
As well as crude oil, natural gas is playing a greater role in its hydrocarbon future with around a third of total production coming from this source. A number of NGL liquid extraction plants have been constructed which can provide essential feedstock for the petrochemical process especially ethane which processed as ethylene can provide the foundations for many key plastics. Propane, butane and liquid petroleum gas are also important by-products of the process.
Oman is making great strides in moving up the value generation chain with large investments in various hydrocarbon intermediate processing complexes that will spur downstream manufacturing. An ammonia plant has been constructed in Salalah Free Zone which provides raw materials for various items especially fertilizer. Other intermediate processing plants include a bitumen plant which converts heavy crude from South America into a product used in road construction. Another potential project involves a BP invested acetic acid plant which provides intermediate products for the use as adhesives, paints and polyester fibre.
Liwa – Game changer?
The most transformative project which is nearing completion is the Liwa Plastics Industrial Complex (LPIC). This USD 6.4 billion involves a gas extraction plant at Fahud, the main focal point of the oil industry in Oman. The resulting NGLs are then transported 300 kilometres by dedicated pipeline to SOHAR Free Zone where they are then processed, along with derivatives from the SOHAR refinery, into polyethylene and polypropylene with over one million tonnes per year of production expected. These two plastics are used in an enormous range of products especially food packaging but also for the automotive industry, construction, consumer goods and artificial fabrics to name but a few. There is a strong potential for developing further downstream industries that utilize such materials.
Mining
As well as hydrocarbons Oman is also endowed with wealth of minerals under the ground. Like other Middle Eastern countries, this sector has been somewhat neglected due to the focus on oil and gas. Diversification from hydrocarbons also involves greater emphasis on the extraction and processing of minerals such as copper, gold, silver, chromite, lead, limestone, antimony and zinc. Many of these reserves also have potential for providing intermediate products required by manufacturers in a wide range of sectors.
An antimony plant in SOHAR Free Zone will be the largest antimony roaster outside of China which is designed to meet European Union environmental standards and US Environmental Protection Agency regulations. The producer called Strategic & Precious Metals Processing (SPMP), an Omani, Dubai and UK joint venture. With a capacity of 20,000 metric tonnes per annum, it accounts for around 15% of the world's production and reduces reliance on China. Antimony trioxide  is the main downstream product and provides raw materials including fibres, synthetic rubber and plastics. It is mostly used as a flame retardant, catalyser or alloy in various consumer items and automobiles.
An aluminium smelting plant has been established by a joint venture between OQ the national petroleum company of Oman, an Abu Dhabi company and Anglo-Australian miner Rio Tinto. The plant is located at SOHAR Free Zone and now produces just under 400,000 tonnes a year of high quality aluminium with around 60% for local downstream use through offtake agreements. The metal is a key component for many products such as household products, aircraft and power transmission equipment.
Oman is also a significant producer of chromite where processed chromium oxide is used for stainless steel and the sultanate accounts for around 10% of global production at around 20,000 million tonnes per year.  Copper has not been mined in Oman since 2004 but a new mine is under construction under an Omani/Australian joint venture which plans on producing one million tonnes of copper concentration as part of a copper-gold mining project. A number of other potential mines are undergoing exploration. Copper is another very useful metal used in such sectors as construction and electrical appliances.
Many oil reservoirs are in limestone formations and Oman is no exception. And over the past twenty years the country has witness a dramatic increase in limestone production and now ranks as one of the main second tier producers behind China, which dominates supply. It is also recognized as being one of the purest in the world. Limestone is an important feedstock for construction materials especially cement but also for toothpaste, pharmaceuticals and as a raw material for chemical production.
CHART – PRODUCTION OF LIMESTONE AND GYPSUM IN OMAN
The other non-metallic mineral in which Oman is a significant producer is gypsum. It is in fact the largest exporter in the world although little of the product is used for domestic production. It is used extensively in the construction industry especially for cement and internal walls but also fertilizer and in the paper industry.
Oman has made significant strides in crude steel production which increased from 500,000 tonnes in 2013 to two million in 2019 due to the development of the SOHAR steel complex. Overall, the SOHAR Free Zone represents the main hub of minerals production in Oman on account of being the main port area close to the Al-Hajar Mountains which separates coastal Oman with the plains and contains the lion's share of copper-gold and other mineral deposits.
Intermediate and downstream production of resources under the ground in the form of hydrocarbons and minerals provides one important pillar for developing a vibrant manufacturing sector in Oman. Access to essential raw materials is one key factor when deciding on the location of a factory, especially when the final product reduces in volume compared to the raw materials. Manufacturers must also be able to easily transport supplies and goods around the country and to ports and airports for import and export. Logistics is also important in its own right and Oman aims to develop as a strategic regional transshipment hub competing with Dubai. With a small population and the most sparsely populated country in the GCC, transshipment needs to be a key component in the country's diversification strategy.
Oman has always had a strong seafaring tradition on account of its location in the Indian Ocean trading routes that help facilitate trade between India, East Africa, the Middle East and the Far East. Oman is the only GCC country that has direct sea access to the Indian Ocean thus avoiding the choke points of the Suez Canal and the Strait of Hormuz. The latter has been subject to host of incidents in past few years involving Iran, which included test firing of a ballistic missile coupled with threats to shut down shipping in the strait. This is especially sensitive given that around a third of global petroleum supply passes through the Strait of Hormuz but also a growing amount of container traffic mostly due to the increase in shipping activity through Jebel Ali port in Dubai.
The Suez Canal is another vital chokepoint but more for physical reasons due to the limited width of the canal and the increasing size of container ships operating throughout the globe. It is estimated that around 12% of world trade or USD 10 billion of value passes through the canal every day. The running aground of the Ever Given, one of the largest container ships in the world, in the Suez Canal in March 2021 highlighted the reliance on the Suez especially for Asia-Europe trade.
There has been substantial progress over the past 15 years in developing Oman's port systems to accommodate the surge in global trade. Three large ports have been developed during this period with large industrial and logistical areas to bring maximum benefit. The two ports currently fully operating are SOHAR and Salalah ports. Over the past five years containerized throughput has increased with Salalah, in the south of the country, taking the lion's share. SOHAR focuses more on non-containerized shipping such as dry and break bulk but is the key gateway for the export of hydrocarbons and minerals from Oman. The attack on the USS Cole at Aden Port in Yemen has led to more goods transiting through Salalah.
CONTAINER THROUGHPUT AT TWO MAIN OMANI PORTS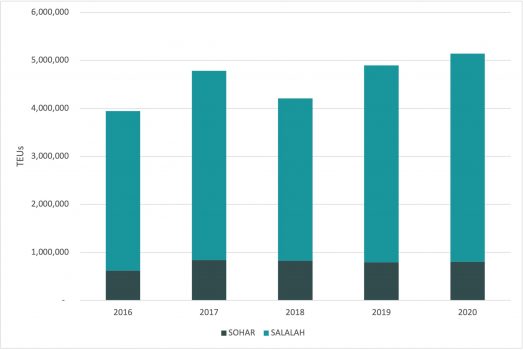 Duqm port also focuses on non-container handling with its proximity to dolomite and limestone quarries and other mineral deposits although a smaller container terminal is in its early operation phase in 2021. Salalah Port is managed by APM Terminals, a subsidiary of Maersk Group and the port is used extensively as the main middle eastern hub for the world's largest container shipping line with connections to routes all over the globe.
Jebel Ali Port, the largest for container throughput in the GCC, oversaw just under 13.5 million TEUs in 2020 which was over two and half times that recorded by Oman's two main ports in the same year. However, with the location of the ports being closer to the main Asia-Europe sea routes and away from the Straits of Hormuz, prospects for growth could mean challenging Dubai in the medium term. Oman could also play an important logistics role as an Indian Ocean hub servicing the Indian subcontinent as well as the growing market in East Africa. The emergence of e-commerce in the Middle East and in the region, boosted by COVID lockdowns, has provided Oman with another opportunity to become a fulfillment centre for Indian Ocean littoral nations as well as the GCC, although the UAE currently dominates this sector. But for Oman to truly become a strong logistics player land transport must complement the rapid improvements to its ports.
INLAND TRANSPORT
While Oman's coastal position is advantageous, the country's position land wise is more challenging. Firstly, Oman is sparsely populated with only 12% of the population living in the two southerly provinces that account for 57% of the land. Most of population lives in the northern coastal areas which are close to the border with the UAE. The southern part of the country forms part of the Rub'al Khali desert (otherwise known as the Empty Quarter) which also encompasses parts of Saudi Arabia and Yemen. The latter is also been subject to ongoing political crises, bordering on civil war, which has created a humanitarian disaster on Oman's doorstep. This has sadly been an impediment for investors looking at Oman. On the positive side Oman has good diplomatic relations with its neighbours, including Iran which is a positive when assessing the logistics potential.
While there has been an upgrading of highways in Oman this has limited positive impact as it mostly benefits "last mile" logistics in densely populated areas. A regular freight railway service would be more economical and currently Oman does not have a functioning railway line. A part of Oman's diversification drive is the plan to develop a railway connecting the mineral rich governorates of Al Wusta and Dhofar in the south with the north of the country and will also include the three main ports of SOHAR, Duqm and Salalah. This project is part of the more ambitious GCC railway which will eventually connect Oman with the UAE plus large and wealthy population centres in Saudi Arabia.
As in most infrastructure projects, especially those of a regional scope, delays have been common.  However, given the imperative throughout the GCC to diversify their economies, the incentive to develop an effective interconnected transport system to develop trading links should help boost the development.  Oman can benefit from the economies of scale with significant payloads expected from the minerals and hydrocarbons sector which should help to make the project economical for the transport of manufactured good thus further supporting the development of industry in Oman.
Therefore, Oman is making headway in developing the infrastructure that can make best use of its geographical position in the region. While development of an efficient logistics operation in the country will directly boost GDP, it will also be a key enticement for investors looking to set up a factory in the Middle East. But in order for Oman to attract further investment, the quality and access to labour is also of crucial importance.
The population of Oman has more than doubled in past 25 years on the back of a surge of expat workers which grew significantly in the period between 2010 and 2015. Most workers come from Bangladesh or India. As in other GCC countries Oman is now burdened with a rentier-style local labour market.  This means the public sector, boosted by oil & gas revenues, provides the average Omani with better pay and security that which can be found in the private sector.  Also working for the government provides for usually higher esteem than for the private sector. This means that the private sector suffers in not having access to local skills and thus stunting productivity growth in the country. Although the government has embarked on Omanisation since 1988 this has met with limited success. Quotas are provided for private companies ranging from 35-65% depending on the sector, although in free zones they are as low as 10-15%.
CHART – POPULATION OF OMAN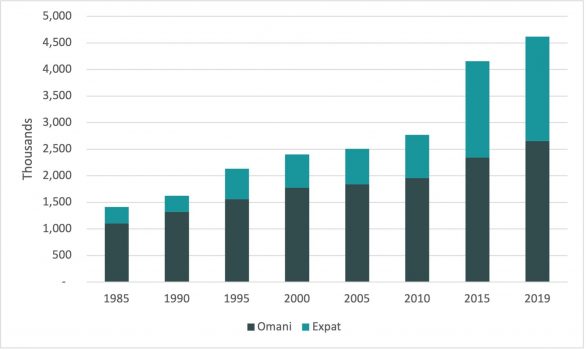 Oman is one of the few countries globally that has a minimum wage that applies only to Omani citizens. At around 845 USD per month this is often offered by employers but is too low for many Omanis.  Given the increasing government debt and potentially low oil prices pressure is mounting to trim spending and to cut the public sector workforce but on the other hand many employers prefer the lower wages but also acceptable skill levels of expat workers. In fact, Omanization rates for private sector employment have fallen dramatically since 2010 in line with the surge of expat workers. The education system is currently deemed inadequate to provide the skills and training required for Omanis to participate fully in the future more diversified economy. This is likely to be an ongoing issue for the next generation of Omanis in which 45% are under the age of 19. Companies often take up the slack by providing industry specific and on-the-job training but more needs to be done prior to employment by the state.
Due to relatively poor economic conditions in the country many people decide to leave for better prospects abroad with Russia as the largest recipient. Since 2010 the net migration away from Armenia has slowed considerably. However, unemployment was just over 18% in 2019 and nearly 32% in the 20-24 age group. This could constitute a reasonable labour pool for future manufacturing activity.
The overall legal structure for foreign investors has improved over the years with non-Omanis now allowed full ownership of their company as opposed to previously 70%. In terms of land foreigners (except those from GCC) could not own land although can have a maximum 30% stake in an Omani limited liability company that can own land. Normally the use of usufruct (land use right) and leasehold is the main vehicle for access to land although these must be with the intention to develop the economy of Oman. In 2021 the Omani government announced new provisions that allow allowing foreign companies to own land of over 5,000 square metres which is either commercial or commercial / residential or tourism or industrial land. It remains to be seen how this will be implemented but the trend has been for greater liberalization of the economy thus supporting the investment environment.
Much future industrial activity is expected to occur in the free zones and these all have separate legal structures as well as financial incentives such as exemption from corporate taxes for up to 30 years and from customs duty for goods and services. In the free zones foreign companies can have freehold ownership rights.
CHART: FOREIGN DIRECT INVESTMENT IN MANUFACTURING IN OMAN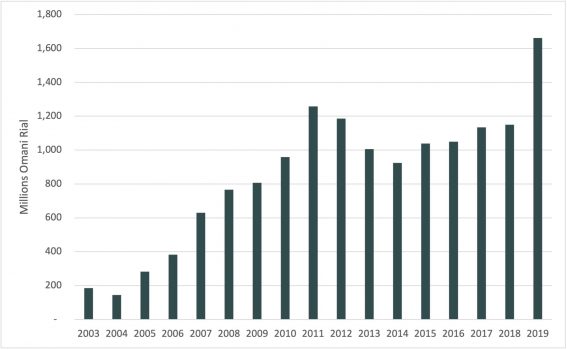 The current and future development of Oman's manufacturing and logistics capabilities will be primarily focused on a handful of large industrial zones all located on the coast but spread out all over the country. The main government body for managing its industrial zones is the Public Establishment for Industrial Estates (Madayn), which was set up in the early 1990s to administer the sultanate's growing industrial estate portfolio. Madayn currently operates most of the ten industrial estates and another, Knowledge Oasis, is a business park that focuses on commercial space for IT companies rather than manufacturers. The first industrial estate was the Rusayl Industrial city which was established in 1983. Most of the industrial estates are located in the northern coastal area of Oman but two are located in the deep south with Al Mazyouna Free Zone located in the inland desert region on the border of Yemen with special visa waivers for Yemeni workers and 10% Omanisation quota.
CHART: SUPPLY OF LAND AT INDUSTRIAL ESTATES IN OMAN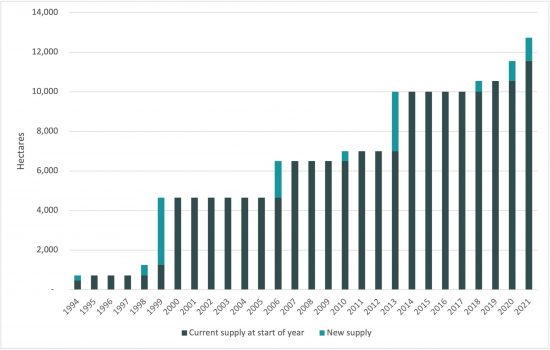 As of 2021 there are around 12,000 hectares of industrial estate land available. A significant amount of land is provided at each launch which takes time to absorb. Apart from Al Mazyouna, there are three other estates with connected ports that have special status as either free zones or special economic zones and are expected to play the key roles in developing Oman's manufacturing base. SOHAR Port/Free Zone is located in the north of Oman close to the main population centres. The zone focuses on four clusters: One is petrochemicals with a SOHAR refinery and petrochemical complex at the site as well as another refinery in Muscat. Metals is another focus with an aluminum and steel plant providing essential raw materials. Logistics is another area especially with a number of large car storage and distribution centres for imports arriving at the port. The new addition is a food processing zone which aims to wean the country away from relying on mostly imported foodstuffs. A sugar refinery and flour mill are being constructed which should provide for essential ingredients in many products thus promoting more downstream food manufacturers and distributors.
Salalah Free Zone is positioned in the south of Oman and is the main container port in the country. It is therefore the logistics sector that is the primary motivation with the port also being the point of entry to Yemen. The future development of a new railway linking the port to other parts of Oman and then into Saudi Arabia and UAE will be a further boost. Export based manufacturers are setting up in Salalah such as in pharmaceuticals plus there is also interest in developing a technology city. Given the free zone's proximity to a number of mining areas mineral processing also features.
The Duqm Special Economic Zone is the newer of the three main zones in the country – and so far least developed. However, an oil refinery is being constructed which will use mostly Kuwait crude and a 220-kilometre natural gas pipeline was completed in early 2021 delivering gas from the gas fields in the centre of the country. This will provide not only gas for a power plant but also gas offtake for large gas users such as ceramics. The port in Duqm specialises in dry bulk handing on account of the extensive minerals in the surrounding area. A petrochemical plant is also slated and overall the free zone could be an important manufacturing and logistics centre using the intermediate products from minerals and hydrocarbons.
While Duqm, Salalah and SOHAR all differ in their focus, they share key attributes. They are all directly connected to deep sea ports in a prime littoral location along key trade routes. They also have important anchor industries such as refineries, petrochemicals and steel works thus providing raw and intermediate products for value added manufacturing. All the zones have large tracts of land allowing for future expansion and they all offer similar incentives such as corporate tax holidays.
Although Oman faces a number of challenges and also many other countries all over the world are trying to develop their manufacturing and logistics sectors, Oman has some advantages that could lead it to become a major regional industrial player. The sultanate has been making great strides in the past ten years in moving its economy away from oil and still much needs to be done but with effective policies, implementation and momentum they can achieve this.