Armenia has witnessed strong economic growth in the past decade with 7.6% GDP recorded in 2019. However due to Covid the economy contracted by 5.7% in 2020 with the landlocked country especially affected by severe border restrictions and closures by its neighbours to control the pandemic. The conflict with Azerbaijan over the disputed Nagorno Karabakh and surrounding areas in the second half of 2020 likely exacerbated the downturn. A strong rebound is likely in 2022 when vaccines should bring normal life back to the region.

CHART – GROSS DOMESTIC PRODUCT FOR ARMENIA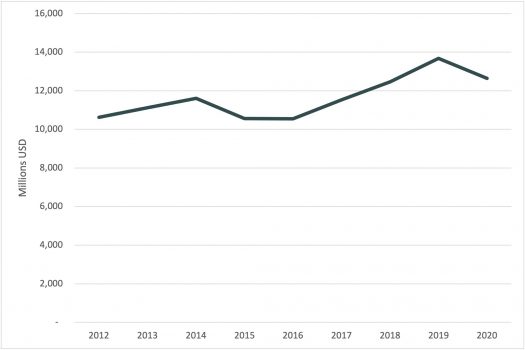 The economy of Armenia is especially reliant on the extractive industries with significant amounts of gold, iron ore, aluminum, and other metals. Manufacturing has begun to play a greater role with impressive growth recorded between 2015-18.

CHART – EXPORTS FROM ARMENIA BY MAIN PRODUCT LINES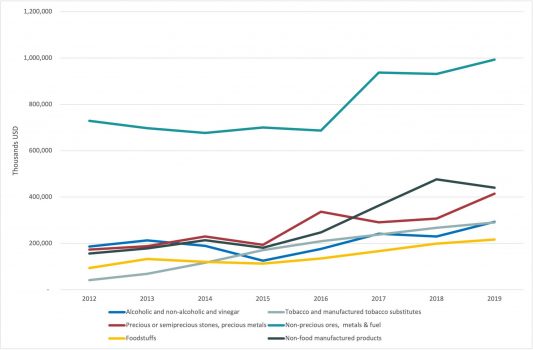 The country has witnessed robust growth in exports from a number of sectors in its manufacturing base – albeit from a low starting point. The key highlight is the increasing amount of exports for garments both knitted and textile.

CHART –MANUFACTURING EXPORTS FROM ARMENIA BY MAIN PRODUCT LINES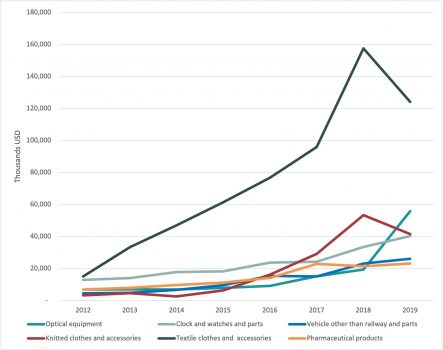 Armenia exported over 200 million USD worth of garments in 2018 although there was a sharp fall in 2019 and 2020 figures may not be promising due to the negative effect of the pandemic. Generally manufacturing exports from Armenia tend to be for low value-added products and imports usually outstrip exports every year. Even though Armenia has a vibrant IT sector on account of its technology role in the Soviet Union, this has not translated into any discernable transfer of skills into its manufacturing sector.
One of the main drivers for economic development in Armenia is its membership of the Eurasian Economic Union beginning in 2015. This consists of a number of former Soviet republics but is dominated by Russia which is now Armenia's largest trading partner, overtaking the European Union. Freedom of movement and a common external tariff means exports to Russia have surged since 2015. Switzerland has become a major player in Armenia's export scene although this is primarily due to gold exports.

CHART – ARMENIAN EXPORTS TO ITS MAIN TRADING PARTNERS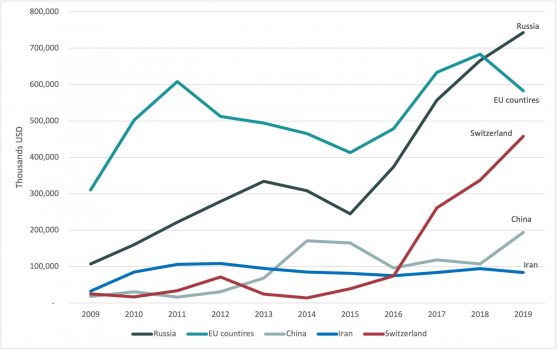 The population of Armenia is just under three million and has mostly been declining since independence in 1991. Most large-scale manufacturing would be for export purposes due to limited number of people along with a GDP per capita of around 4,600 USD.

CHART – POPULATION OF ARMENIA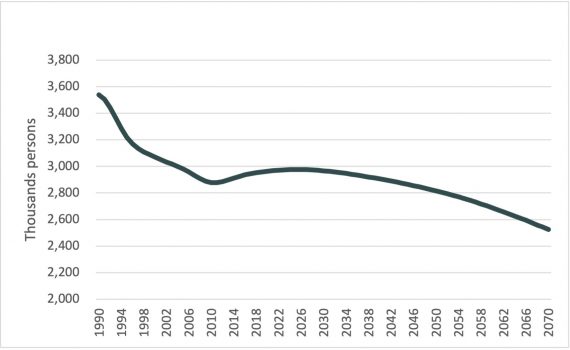 Armenia also has an aging population which, unlike western Europe, is mostly on account of emigration of younger people.
CHART – DEPENDENCY RATIO FOR ARMENIA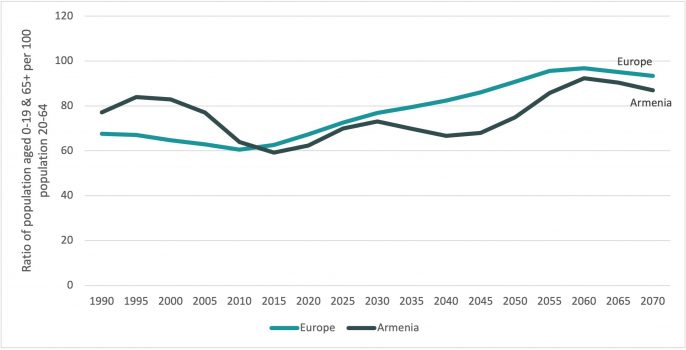 Due to relatively poor economic conditions in the country many people decide to leave for better prospects abroad with Russia as the largest recipient. Since 2010 the net migration away from Armenia has slowed considerably. However, unemployment was just over 18% in 2019 and nearly 32% in the 20-24 age group. This could constitute a reasonable labour pool for future manufacturing activity.
CHART – NET MIGRATION FOR ARMENIA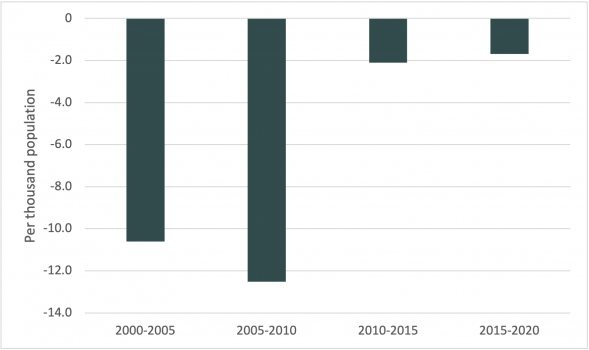 Higher vocational training has been seeing a steady decrease since 2008. This further enhances the brain drain that could prevent Armenia from moving to a knowledge based economy.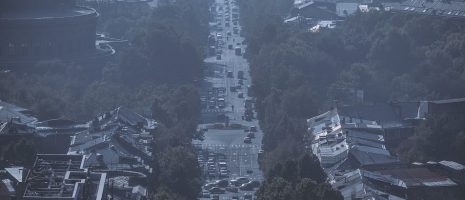 CHART – HIGHER VOCATIONAL ENTRANTS IN ARMENIA
Armenia is a landlocked country where around four fifths of its total border is with Turkey and other borders with Iran, Azerbaijan and Georgia. All of the country's neighbours are challenging as reliable connections even before Covid. However, the pandemic has made the situation even more difficult with much trade routed through Georgia or Iran when Turkey shut its borders. While trade with Russia has been growing there is no direct border and access is through Georgia using the Upper Lars Highway. This route is mountainous and subject to many natural disasters such as landslides which can block the route for long periods.
CHART – RAIL FREIGHT IN ARMENIA
The internal highway system itself is underdeveloped and one important railway line is used for freight transport which runs through to Georgia connecting with its Black Sea ports such as Poti.
Armenia has created Free Economic Zones as a way to develop industrial estates but at present with limited success. The focus has been on incentives rather than on location and internal and external infrastructure. The incentives include no profit tax, VAT or customs duty. Currently there are a number of zones that are operating and others planned. Most of the zones are not geared to manufacturing with Meridien FEZ focused on jewelry and Ecos FEZ on date processing and cryptocurrencies.
The first FEZ was established in 2013 called Alliance FEZ which is an extension of the original ROA Mars company that specializes in electronic hardware and optional equipment. The location is close to Yerevan, the capital. The FEZ located in Gyumri, the second largest city in the country, is planned to have the first tenant operating in 2022. The town is close to the Georgian border where much of Armenia's freight transits through to Georgian ports.
Another planned manufacturing/logistics FEZ called Meghri is still yet to develop partly due to its proximity to Iran. The country is currently subject to sanctions which restricts the country acting as a conduit for trade from its ports.
Although progress has been made in developing Armenia's manufacturing capacity more needs to be done to add more value to its wealth of natural resources and bring jobs and prosperity to the country.