Nestled in the heart of Central Asia, Kyrgyzstan is a landlocked nation defined by its rugged mountainous terrain and a population of approximately 6.1 million. Despite its picturesque landscapes, Kyrgyzstan faces economic challenges due to its limited resource base, with only 7% of its land being arable. The country's unique geography, where more than 50% of the land lies at altitudes ranging from 1,000 to over 3,000 meters, presents both opportunities and constraints for economic development.
Post-Soviet Era
The post-Soviet era marked a pivotal moment for Kyrgyzstan's economic landscape. The transition from a Soviet republic to an independent nation led to significant transformations, both positive and tumultuous. The sudden liberalization of the economy, coupled with the disruption of trade ties and fiscal transfers from the Soviet Union, resulted in a sharp economic downturn. This, in turn, led to a period of impoverishment and political instability. The subsequent years saw efforts to stabilize and revitalize the economy, despite facing political turbulences.
Slow economic recovery for Kyrgyzstan
Kyrgyzstan's journey to economic recovery has been gradual. The nation witnessed a steady growth trajectory from the early 2000s, allowing it to regain its 1991 GDP per capita level by 2011. This growth propelled Kyrgyzstan into the lower-middle-income group by World Bank classification. However, despite these advancements, the country remains the second poorest in Central Asia, highlighting the complexities of its economic challenges.
The nation's economic growth has been predominantly driven by the service sector, particularly trade. In contrast, the industrial sector's contribution has been variable due to the influence of natural resource processing activities. While Kyrgyzstan's recent growth is encouraging, it has yet to translate into the creation of a thriving middle class with secure incomes. The majority of the population continues to engage in low-paying, low-productivity jobs, underscoring the need for sustainable and inclusive economic development.
In Bishkek, the capital city, urban industrial zones span a significant portion of land along the city's East-West axis. These zones, covering over 1,272 hectares, are hubs of industrial activity, although they may appear isolated from the outside due to their fenced boundaries. These zones play a vital role in the city's fabric, integrating industry into its structure. Despite their perceived abandonment, these areas are bustling with activity, impacting the lives of workers and residents in proximity. The industrial zones provide insight into the intersection of urban planning and industrial development.
Industrial parks on Kyrgyzstan
Kyrgyzstan's journey towards economic diversification also includes investments in industrial parks. The Kara-Suu district in the Osh region is witnessing the construction of an industrial and logistics park. This park, housing three production sites for knitwear garments, knitted fabric, and yarn, marks a step toward enhancing the country's manufacturing capabilities. These initiatives demonstrate Kyrgyzstan's commitment to expanding its industrial footprint and contributing to economic growth.
Kyrgyzstan's energy landscape showcases its potential as a clean energy producer. With more than 90% of its electricity being hydroelectric, the nation has ample opportunities to harness its natural resources. However, Kyrgyzstan has only tapped a fraction of its hydro potential. International collaborations, such as the "eco-city" project signed with French investors, reflect Kyrgyzstan's efforts to balance economic development with environmental sustainability.
In conclusion, Kyrgyzstan's economic journey is a blend of challenges and progress. As it navigates its path to sustainable growth, the nation's focus on diversification, industrial development, and harnessing its natural resources sets the stage for a promising future. While the road ahead may be complex, Kyrgyzstan's determination to overcome obstacles and create a robust economy remains unwavering.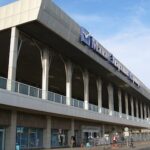 Manas International Airport is the main international airport in Kyrgyzstan, located...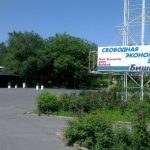 Kyrgyzstan – Бишкек эркин соода аймагы Bishkek Free Economic Zone is the...