Malaysia - Taman Eko Perniagaan 1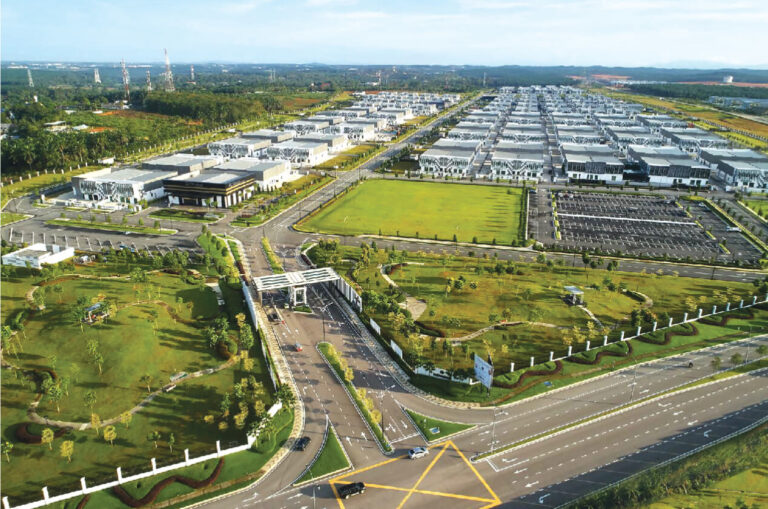 Eco Business Park 1 is an integrated industrial hub built and designed to maximise efficiency with minimal resource wastage. This is via its strategic location in Tebrau, Malaysia. Multiple intelligent green feature, a wide array of business solutions, and synergistic smart facilities sharing. That is managed and serviced by a dedicated team of professionals that will constantly and continuously work together with the community. The aim of making it sustainable integrated industrial hub in the future.
Eco Business Park 1 is the benchmark of industrial hubs of tomorrow. An advantage you can seize today.
Features of Eco Business Park 1
Eco Business Park 1's advantageous benefits such as, high-speed broadband, space customisation solution, safeguard compound and one-stop industrial solutions; Eco Business Park 1 is a full- fledged hub with immaculate compositions of efficiency and high value effectiveness.
High-Speed Broadband
The park features a blazingly fast internet connection, supplied by the nation's leading internet service provider, letting you connect your business across the nation as well as the globe seamlessly and effortlessly.
Complete Space – Customisation Solution
The Innovative Flexi-Space concept makes every unit a synthesis of retail, office, showroom and warehouse. From the soaring ceilings to the highly customisable open floor plans, every aspect of the building is designed to let you synergise and utilise spaces to fit your unique requirements according to the nature of your business.
Safeguarded Compound
The compound is protected by a secured single-entry-and-exit gated and walled system. It is safeguarded by a team of security personnel to give you absolute peace of mind. 24-hour security guard monitoring and patrolling assisted by EcoWorld's auxiliary police service.
A Clean & Green Industrial Environment
The park has a breathtaking manicured landscape, 15 acres of wide open space, a beautiful linear park, multiple green lungs. Plus calming water features, and pockets of lush greenery, the park is expertly designed to create not only a lastingly excellent impression of your corporation for your guests. Also a pleasant and comfortable environment for you and your clients to conduct your business as well.
Intelligent Green Features
Every unit is integrated with a host of intelligent green features designed to keep resource and energy-usage low. As well as carbon footprints minimal, making Eco Business Park 1 a truly self-sustainable industrial park of tomorrow.
Rainwater harvesting for water saving
North-South orientation for natural heat-reduction.
Clear roof design to invite ample natural reduction.
Full-height glazed windows to enhance natural ventilation and lighting.
LED street lamps for lower energy consumption.
Multiple green lungs.
EcoWorld One-Stop Business Solution
The EcoWorld One-Stop Business Solution is a range of professional services specially created to ensure that setting up your operations will be nothing but a hassle-free experience. We help to assist business owners, especially those who are new in the country.We help to set up their businesses by providing assistance in facilitating applications and approvals. These include MIDA, Department of Environment, Registrar of Companies, EPF, SOCSO, etc.