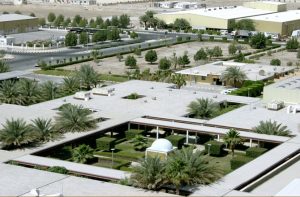 Saudi Arabia - المدينة الصناعية الثانية بالأحساء
Al-Ahsa Second Industrial City is considered one of the biggest potential industrial estates in Saudi Arabia. Amounting to 300 million square metres. It is situated around 50 kilometres from the Qatar border town of Salwa. As well as in close proximity to Bahrain and Dammam City. It so far has struggled to attract significant investment partly due to poor location and competition from other industrial cities. This includes the First Industrial City in the area.
The new city would be built around energy-related industries such as support services for power generation and transmission. It is in line with the Vision 2030 of the Kingdom of Saudi Arabia.
Current details for Al-Ahsa Second Industrial City
Food products, Machinery and equipment not elsewhere classified, Apparel, Textiles, Chemicals and chemical products, Coke and refined petroleum products, Rubber and plastic products, Fabricated metal products (except machinery and equipment)
Details of Al-Ahsa Second Industrial City
Establishment year: 2013
Distance to nearest airport: 103 km to Al-Ahsa International Airport
Travel to nearest railway station: 100 km to Hofuf Railway Station
Distance to nearest port: 240 km to King Abdulaziz Port
Developed area: 4 million m²
Total area: 301.6 million m²
Location: On the coast of the Arabian Gulf, 50 km north of Salwa
Al Ahsa is the archetype of a lush desert oasis. And the UNESCO World Heritage-recognized region recently added a new feather to its cap. The Guinness World Records declared Al Ahsa the largest self-contained oasis in the world.
Al-Ahsa region
The Al-Ahsa region in Eastern Saudi Arabia, with its rich history and cultural significance, plays a pivotal role in the Kingdom's Strategic Vision. Home to 15% of Saudi Arabia's population, Al-Ahsa encompasses a population of 1,240,000 within a 22,600-hectare built area. This region is unique, comprised of numerous villages, notably Al Hofuf and Al Mubarraz, which collectively form the city's metropolitan core. Al-Ahsa stands as one of the world's oldest settlements, its historical and natural significance recognized by UNESCO as a World Heritage Site. The Al-Ahsa Oasis, spanning approximately 85.4 km², is the world's largest oasis and is situated about 60 km inland from the Persian Gulf's coast. As an integral part of Saudi Arabia's Eastern Region, Al-Ahsa's prominence aligns with the broader strategic vision for the area.