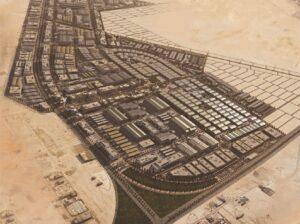 Saudi Arabia - المدينة الصناعية بالخرج
Al Kharj Industrial City, established in 2009, holds a strategic location approximately 100 kilometres from Riyadh, the capital of Saudi Arabia. Linked to Highway 10, which spans from the southern regions to the Yemeni border, this industrial city has gained prominence as a bustling economic zone. With over 370 active factories, it mainly caters to small-scale light industrial manufacturing.
Diverse Investments Fueling Growth at Al Kharj Industrial City
In recent years, the city has witnessed a surge in investments across various sectors. One noteworthy development is the collaboration between Xtreme Systems and Almanara Electric Trading Company. Xtreme Systems has dedicated a 700m² ready factory space to localizing computer, electronic, and visual products manufacturing, a move set to generate 30 job opportunities. Similarly, Almanara Electric Trading Company has secured a 1500m² ready factory space for the production of electrical equipment, expected to create 18 jobs.
Saudi-based Astra Mining has charted an ambitious course to propel industrial growth in the region. With an earmarked investment of around 1.2 billion Saudi riyals ($319.51 million), the company is set to establish four new factories within the next five to seven years. CEO Ali Al-Jabrah highlighted that these additional factories, utilizing the company's land bank of 92,000 square metres, will significantly enhance production capacity and cost efficiencies. Currently operating a factory in the city, Astra Mining focuses on producing calcium oxide, calcium hydroxide, and dololime, contributing to an annual output of 280,000 metric tonnes.
Continued Expansion and Modernization at Al Kharj Industrial City
Infrastructure development continues to shape the landscape of Al Kharj Industrial City. Recent reports from the Saudi Authority for Industrial Cities and Technology Zones (Modon) highlight that infrastructure completion rates stand at 58 percent for Al-Kharj Industrial City and 54 percent for Dhurma Industrial City. These advancements underscore the commitment to creating a conducive environment for businesses to flourish.
As part of its proactive strategy to boost local industries, MODON has successfully constructed 52 new ready-made factories in Dammam and Al-Kharj. These additions, comprising 20 factories with an area of 700 sq. m in Dammam and 12 with an area of 1,500 sq. m in Al-Kharj Industrial City, align with MODON's dedication to driving industrial empowerment, fostering local content, and bolstering the national economy.
Al Kharj Industrial City serves as a testament to Saudi Arabia's thriving industrial landscape, with various investments and initiatives driving economic growth and development across multiple sectors.
| | |
| --- | --- |
| Date of Creation | 2009 |
| Location | Southwest of Al-Kharj Governorate, 15 km away from the intersection of Al-Dalam Road with the road to Al-Kharj Industrial City |
| Total Area | 99000000m² |
| Developed Area | 24,000,000 |
| Factories Count | 379 industrial and service contracts (including those in operation and those under implementation) |
| Distance to the nearest airport | 140 km to King Khalid International Airport |
| Distance to the nearest railway station | 100 km to Riyadh railway station |
| Distance to the nearest port | 100 km to Riyadh Dry Port |
| Electricity | Capacity of drinking water | Sewage treatment plants |
| --- | --- | --- |
| (MVA) 1000 | 6,000 m3 | Project to design, execute and operate a wastewater treatment plant with 10,000 m3 capacity under implementation |
Current and Targeted Industries at Al Kharj Industrial City
Industrial activity

No. of Factories

Service contracts
24
Other manufacturing industries
39
Printing
1
Food products
52
Furniture
9
Machinery and equipment not elsewhere classified
13
Computers, electronic and optical products
1

Wood and products of wood and cork (except furniture)

Articles of straw and plaiting materials

6
Basic metals
7
Motor vehicles, trailers and semi-trailers
3
Beverages
15
Electrical equipment
10
Apparel
1
Pharmaceuticals
9
Textiles
3
Chemicals and chemical products
38
Paper and paper products
11
Coke and refined petroleum products
12
Rubber and plastic products
49
Other non-metallic mineral products
31
Fabricated metal products (except machinery and equipment)
44
Building materials, ceramics and glass
Construction of 32 Ready-built factories, 12 with an area of 1,500 sqm and 20 with an area of 700 sqm . CONTACT US FOR MORE INFORMATION