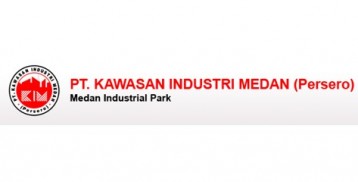 Kawasan Industri Medan (KIM) is a State Owned Enterprise established in 1988, with a composition of shares comprising the Government of Indonesia (60%), North Sumatra Province (30%) and Government of Medan City (10%). Located in Medan, the third largest city in Indonesia, KIM currently covers 780 ha and continues to develop the land to accommodate the high interest of investors interested in the North Sumatra Province.
KIM is 10 km from the center of Medan, about 15 km from Belawan Harbor, and is strategically located close to the Belmera Toll Gate giving the estate good accessibility through well connected roads. About 495 companies occupy this industrial area, ranging from small to medium scale industries, from local to international companies.
KIM has a vision to become industrial estate that is run by good environmental conduct and providing business facilities and infrastructures that increase the value for both shareholders and stakeholders. KIM is the right place for investment for both local and foreign investors.
Additional Details
Total area: 780 hectares
Land available: 100 hectares
Electricity supply: Capacity 120 MW
Wastewater treatment: Available
Water supply: 18,000 m3/day
Internal road system: Main Road (width) 60m Secondary Road (width) 18m
Seaport: 15 km (Belawan Seaport)
Airport: 20 km (Kualanamu International AirPort)
Nearest population centre: Medan 10km
Ready built factories: Building specifications – Area of warehouse: 729m2 (18m x 32m Uk.) – Office of ground floor area of 126 m2 – Office floor area of 132 m2