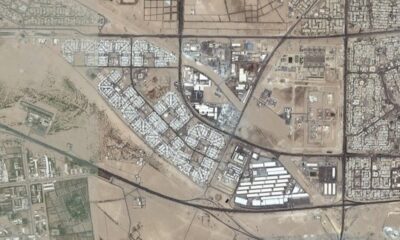 Kuwait - الصليبية الصناعية
Al Sulaibiya Industrial 1 is a more traditional industrial area close to Kuwait City. It is home to many smaller businesses especially in the construction materials sector and is located conveniently next to the 6th Ring Road.
The industrial area contains a waste disposal area that includes the world's largest tyre dump. It has been under development since at least 2010.
Investment in water at Al Sulaibiya Industrial 1
The Ministry of Electricity and Water began installing smart meters in the Al Sulaibiya 1 factories in 2022. This is the third industrial area to be provided with smart meters after the Shuaiba and Sabhan factories.
The ministry has so far replaced 122,584 counters, of which 120,000 are in the investment and commercial sectors. The 1,900 are in the private housing sector.
Sulaibiya is a small town in Al Jahra Governorate, Kuwait. It holds the record of 53.6 °C (128.5 °F) for the highest temperature in Asia and third highest in the world. It comprises two Industrial Areas with numerous construction material industries and a Residential Area featuring 10 blocks.
Towards the town's end lies Sulabikat, closer to the Kuwaiti grand cemetery, enhancing its unique geography.
The district boasts the world's largest membrane-based water treatment facility, constructed by General Electric in 2015. This advanced facility utilizes reverse osmosis (RO) and ultra-filtration (UF) membrane-based technologies to treat 600,000 cubic meters of water daily. The purified water meets potable quality standards and serves non-potable purposes in agriculture, industry, and aquifer recharge.
CityBus – Located in Sulaibiya Industrial 1
CityBus, the flagship brand of City Group Company KSCP is the first privately held public transport provider in Kuwait. Since March 8, 2002, CityBus has been transforming the face of public transport by providing modern, reliable, safe, and economical transport services to the residents of Kuwait. CityBus provides regular stage carriage services on public routes and chartered bus services for its institutional customers. It owns and operates a fleet of more than 500 air-conditioned buses, 80 of which are sustainable less carbon emission buses throughout Kuwait and has clocked more than 68 million passenger journeys.