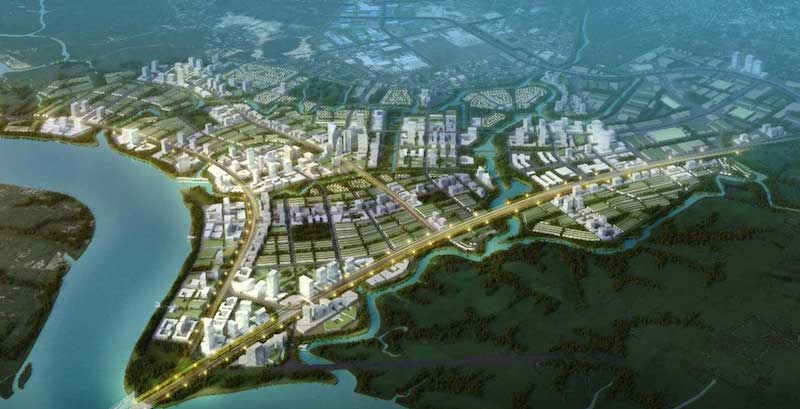 Vietnam - Khu công nghiệp Amata City Long Thành
Amata City Long Thanh Industrial Park will be located in Long Thanh District, Dong Nai Province near Ho Chi Minh City and will cover a land area 1,270 hectares. The park will consist of three elements: a Hi-Tech Park, a Mixed-use Development, and a Service zone. The Park enjoys a strategic location within Long Thanh District. The park is to Dong Nai River, and links directly to the new highway connecting the future Long Thanh International Airport with Ho Chi Minh City. This will be a key advantage for the industrial park location.
Amata City Long Thanh Industrial Park officially received the investment certificate in 2015. The goal of the project is to develop into an industrial park, serving high-tech industries.
In particular, Amata City Long Thanh also integrated the development of the Amata Township commercial center . The project has the role of providing quality equipment and facilities and opening a full life for investors as well as neighboring communities.
Total investment capital "poured" into the logistics area is 1.6 billion USD. This huge number shows the value and strong development potential of the project. Amata City Long Thanh is expected to become a "bright star" that changes the appearance of the whole area. The appearance of the project is a "momentum" to turn Long Thanh into a "leading" locality, a leading modern and smart industrial park in Vietnam.
In general, Amata City Long Thanh project is a successful continuation after two complex industrial park projects Amata Bien Hoa and Amata Ha Long. In 2020, Dong Nai Provincial People's Committee officially approved a land fund of more than 410.31 hectares for Amata Group to build Long Thanh industrial park. This is one of three projects that will be implemented by Amata Group in the coming period.
Additional Details for Amata City Long Thanh Industrial Park
Total area: 1,265 hectares
Airport: Tan Son Nhat Airport 35 km, Long Thanh International Airport 20 km
Tax incentives: Corporate Income Tax: 2 years exemption, 4 years 50% reduction, 17% in 10 years
For leasing inquiries please contact below
Current progress for Amata City Long Thanh Industrial Park
Amata Long Thanh has made significant progress despite facing challenges. They have completed site clearance for 60% (247 hectares) of the project and obtained land use rights certificates for 120 hectares. Infrastructure construction began in July 2023, with a total investment of 945 billion VND (approximately 41 million USD) for phase 1. The project adheres to international standards and incorporates lessons from the group's industrial parks in Thailand and other developed countries, focusing on ground reinforcement, road construction, water supply, drainage systems, and flood prevention.
Even though it's still in progress, Amata has garnered strong interest from over 40 potential investors, including those from the US, Japan, Taiwan, Hong Kong, and China, looking to lease over 300 hectares of industrial land in the first half of 2023. After completing phase 1 infrastructure, the available rental space is expected to fill quickly.