Sri Lanka - බණ්ඩාරනායක ජාත්‍යන්තර ගුවන්තොටුපළ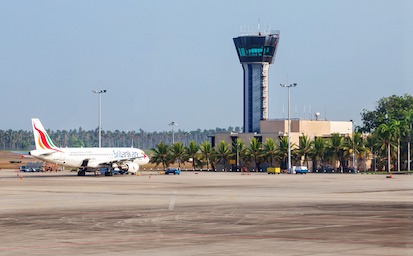 Bandaranaike International Airport is the main international airport serving Sri Lanka. It is located in Negombo, 32.5 kilometres north of Colombo. TheAirport and Aviation Services (Sri Lanka) Ltd administers the airport and serves as the hub of SriLankan Airlines, the national carrier of Sri Lanka. The airport has three passenger terminals.
AASL presently shoulders the challenge of developing and managing four airports namely Bandaranaike International Airport (BIA), Colombo Airport (RMA), Mattala Rajapaksa International Airport (MRIA) and Batticaloa Airport that fall within its purview in executing the statutory responsibilities.
Runway: 3,350 metres
International destinations: Chennai, Malé, Dubai, Doha, Dehli, Kuala Lumpur
Air Cargo at Bandaranaike International Airport
"Facilitating international trade, the BIA provides cargo handling services with a capacity of 250,000 MT and a dedicated, well-trained team. With the expansion that is underway, the air cargo terminal will undoubtedly play a key role in supporting the needs and demands of industry."
Imports Terminal
Ground Floor
80,729.25ft2
7,500m2
First Floor
21,527.80ft2
2,000m2
ULD Parking
96,875.50ft2
9,000m2
Awning Space
32,291.70ft
3,000m
Freezer & Cold Room
377m3 (Cubic Meters)
Including Animal holding Facility, Plant Quarantine, Animal Quarantine & Sri Lanka Customs
Exports Terminal
Ground Floor
96,971.98ft
9,009m
First Floor
30,978.50ft
2,878m
Including Plant Quarantine, Animal Quarantine, Department of Fisheries & Sri Lanka Customs
Terminal I- Ground Floor
| | | |
| --- | --- | --- |
| Warehouse space Including mezzanine floor (22 Nos. of Warehouses) | 33,000ft2 | 3,065.8m2 |
| Each Warehouse consist of | 1,000ft2 (Floor Area) | 92.0m2 |
|   | 500ft2 (Mezzanine) | 46.4m2 |
| Office Spaces | 914ft2 | 84.91m2 |
First Floor
Office Spaces
4,425ft2
411.09m2
15 Nos. of Office Spaces including Airlines Offices, Courier Service, National Gem & Jewellery Authority
Second Floor
Office Spaces
3,935ft2
365.5m2
15 Nos. of Office Spaces including Airlines Offices, Courier Service, National Gem & Jewellery Authority
Terminal II
| | | |
| --- | --- | --- |
| Warehouse space including mezzanine floor | 29,354ft2 | 2,727m2 |
| Awning Area | 21,136ft2 | 1,963.6m2 |
Terminal III – Ground Floor
| | | |
| --- | --- | --- |
| Warehouse space including mezzanine floor (12 nos. of Warehouses) | 31,200ft2 | 2,898m2 |
| Each Warehouse consist of | 2,100ft2 (Floor Area) | 195m2 |
|   | 500ft2 (Mezzanine) | 46.4m2 |
| Office Spaces (Ground Floor) Board of Investment of Sri Lanka | 520ft2 | 48.3m2 |
First Floor
Office Spaces
Board of Investment of Sri Lanka
3,139ft2
291.6m2