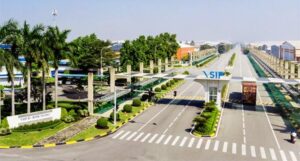 Vietnam - Becamex-VSIP Bình Định
Becamex-VSIP Binh Dinh is of strategic importance for the socio-economic development of Binh Dinh province in Vietnam. The project consists of 2 phases: Phase 1 (Area A) covers an area of about 1,425 hectares of industrial land, residential and resettlement areas. Phase 2 (Area B) covers an area of 883 hectares. This is master-planned for Urban, Services and Commercial area.
One of the advantages is the strategic location with a convenient transportation route with 25km from Quy Nhon International Seaport. It also 31km from Phu Cat International Airport.
In the near future, Becamex – Binh Dinh Integrated Township & Industrial Park will become a destination for attracting investments with a sustainable development. It will form a region closely linked to Nhon Hoi Economic Zone and adjacent industrial parks.
In order to get ready for the project to come into operation, the authorities of Binh Dinh province have been actively involved in creating favourable conditions for investors to implement their projects.
Amenities at Becamex-VSIP Binh Dinh
Fire fighting station, football yard, FLC hotel & resort, Explorascience Quy Nhon, Shopping Center, Restaurant Service, Hospital Service, Golf Course, Universities.
The minimum regional wage at Becamex VSIP Binh Dinh (region 4): USD 130 (2022).
POWER
151.2 MW (supplied by Binh Dinh Electric Company)
CCTV GENERAL SECURITY 24/7
On site 24/24.
TELECOMUNICATION
Available
WATER
Quality standard QCVN 01:2009/BYT, estimated max capacity of 41,000m3/day.
SEWAGE TREATMENT
Estimated max capacity of 31,500 m3/day.
Promise of Becamex-VSIP Binh Dinh
The site will be home to multi-disciplinary industries closely attached to a full suite of service facilities like healthcare and education units, trade centres, hotels, restaurants, shopping centres, entertainment venues, community sports grounds, and social housing. Each subzone will be rationally arranged to meet the highest requirements of hundreds of thousands of local residents and investors, helping them to save costs while optimising investment efficiency.
Nguyen Van Hung, chairman of Becamex IDC, said that Binh Dinh is strategically located in the centre of the North-South railway and road. The province is the nearest gateway to the East Sea of the Central Highlands, southern Laos, northeast of Cambodia, and Thailand through the National Highway No.19 and Quy Nhon Seaport.
"We hope that Becamex VSIP Binh Dinh will play a key role in attracting investment and creating a breakthrough in industrial and service development of Binh Dinh in the new era," he said.