Indonesia - Kawasan Industri Internasional Bekasi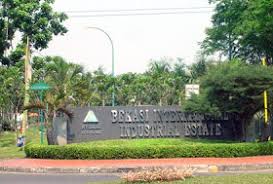 Aiming to offer an optimal industrial site equipped with cutting-edge technologies to Korean manufactures that are eager to expand their business to the South East Asian region, Hyundai Corporation has established PT Hyundai Inti Development in Jakarta, Indonesia in 1990 as a joint venture with Lippo, Indonesia's largest real estate/finance group.

Situated 30 minutes to the east from Jakarta City, the 200 hectare large industrial park sits within Bekasi International Industrial Estate in Lippo Cikarang region. PT Hyundai Inti Development began its first plot presale in 1991, and so far 104 companies including 26 Korean corporations has set up their manufacturing bases in the park, churning out their competitive goods at full steam.
.
Tenants at Bekasi International Industrial Estate
PT. Enkei Indonesia (Main Plant)
Today, Enkei has grown into one of the world's leading aluminum wheel manufacturers, possessing superior technology, and is now recognized as a world-class aluminum wheel manufacturer. The company has a facility in Indonesia.
PT Dharma Polimetal
Established in 27 March 1989, PT Dharma Polimetal Tbk ( DP ) specializes in manufacturing of metal-based automotive components supplying for major motorcycle and automobile manufacturers in Indonesia.
Therefore, in conducting its business the Company follows the the principles of Quality Management ISO TS 16949 & Environmental Management ISO 14001.
Furthermore, to ensure that the quality of products meet our customers' expectations, the company also utilizes a very precise inspection facilities such as Atomic Absorption Spectroscopy (AAS), Layout Machine, Flexible Arm Measurement, Photo Micro & Macro, Profile Projector, Tensile Strength, Salt Spray Test, and Cass Test.
Products of PT Dharma Polimetal Tbk, such as:
Motorcycle: Frame Body, Muffler, Wheel Rim, Steering Handle, Grab Rail, Main Stand, Step Bar component, Swing Arm, Arm Cushion, and Fastener.
Automobile: Reinforcement Sub Assy Instrument Panel / Beam Comp Steering Hanger, Hood Lock, Cross Member Frame, General Parts, and Fastener, Suspension Member.
Korean companies in Bekasi International Industrial Estate
Dae Sung Eltec Indonesia – CD-Rom assembling
Dae Myung Indonesia – Plastic injection
Dongan Kreasi Indonesia – Wig manufacturing
Dong il Indonesia – Sewing
Dongil Wigantara Metal – Steel casting
Hanam Indonesia – Electronics parts
Hung-A Indonesia – Bicycle tire
Indal Lon – Garments sewing
Il-Jo Indonesia – Washing
Kepsonic Indonesia – Injection, speaker
Kwang Sung Electronics – Electronics parts
LG Inotec Indonesia – Electronics parts
Oriental Electronics – Electronics parts
Putra Pile Indah – Fabrics
Samindo Electronics – Assembling
Mirio Indonesia – Electronics parts
Shin Heung Indonesia – Press, assembling
Three Star Indonesia – Radiators
Woo In – Press, assembling
Korys Indonesia – Leather processing
Hankook Casting Indonesia – Die casting
Wha In – Press, assembling
Cheil Abrasive Indonesia – Grinding wheel