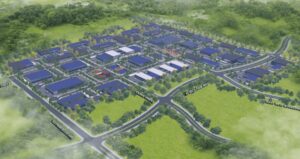 Vietnam - IT Park Đà Nẵng
Danang IT Park is located in Northwestern Economic Development corridor 20 minutes drive from the city center. It is easy to access the CBD airport, seaport, universities and local attractions
Danang is the largest human resource training center in Central and the third in Vietnam. Over 44,000 graduate from training and education organizations in the city.
Danang's workforce, accounting for more than 70% of the population, is young, dynamic, diligent and well-trained.
The IT centre will include a specialized "manufactory" to produce electronic components and ICT auxiliary products.
Additional Details for Danang IT Park
Key industrial sectors: Researching, designing, developing Electronic product. Producing Electronic product for some industries such as: Civil, Industry, National defense…
Ready built factories: Specialized factory to research, manufacturing & assemble high-tech SMT Unit size 1,000 sqm
Developer: Danang IT Park Development JSC.
Location: Hoa Lien, Hoa Vang District, Danang City, Vietnam
Total Area: 341ha
Phase 1: 131ha and 47 million
Phase 2: 210ha and 74 million USD
Total capital Investment: 121 million USD
Development target: To develop a high-tech community modeling after the Silicon Valley in the United States and the Hsinchu Science Park in Taiwan.
At present, the following companies show interest in joining Danang IT Park: IBM, Cisco, Intel, KDDI, Mitsui, NTT Data, Japanese firms, US and local Software & IT companies.
Vision: At Da Nang, DITP will be one of the best IT Park in Southeast Asia, modeling after the Silicon Valley.
The park is a prominent member of the trio of national hi-tech zones, stands alone in serving the central and Central Highlands regions. This park has successfully drawn the attention of 27 investors from both domestic and foreign origins, amassing a combined registered capital of US$890 million.