Oman - المنطقة الاقتصادية الخاصة بالدقم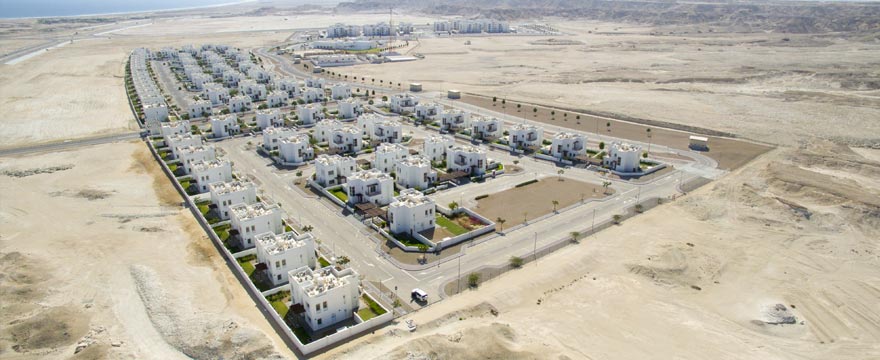 Duqm Special Economic Zone is located in Al Wusta Governorate in the centre of the Sultanate of Oman. It is at a distance of 550 kilometres from the capital Muscat. The Special Economic Zone of Duqm is the largest in the Middle East and North Africa. It has an area of 2,000 square kilometres.
The Special Economic Zone at Duqm is in its early stages of development but with big ambition. The authority hopes to develop several development zones. The most important being a multi-purpose port, a dry dock for repairing ships, a fishing port, a regional airport, and tourist, industrial and logistical areas.
Full completion of the project is not expected until 2040 to coincide with Oman Vision 2040. Some hope the previously small sleepy town can rival or exceed that of Dubai.
Additional Details
Total area: 2,000 sq km – for all uses.
Land tenure: 50 years land use right.
Tax incentives. Tax exemption up to 30 years from the date of commencement of operations, renewable for a further 30 years.

Private Transfer from Muscat Airport (MCT) to City Hotel Duqm - $665.29
from:
Viator, A Tripadvisor Company
Special Economic Zone Authority Duqm (SEZAD)
The Special Economic Zone in Duqm (SEZAD) has been established as per the provision of the Royal Decree No 119/2011 issued on 26TH October 2011. The establishment of SEZAD crowns the great efforts made by the Sultanate to diversify sources of national economy. SEZAD stretches over 2,000 square kilometer with 60km long beach front. They have started developing 45% of the area, about 800 km. The remainder part of the area is left for the future expansions.
SEZAD is the biggest special economic zone in the Middle East region. This large size allows the establishment of various mega projects. The government has taken into consideration to ensure that the area is fit for a wide number of business activities to meet the needs of investors. The area is divided into eight main areas that include the port, the ship dry dock, the oil refinery. It also includes a regional airport, the heavy – medium and light industries complex. There are also residential –commercial and tourism areas plus logistic services. Necessary measures have been taken while preparing the designs to ensure ecological balance and allow residents to move from one area to another smoothly using the main and sub road networks.
Competitive advantages of Duqm Special Economic Zone
SEZAD has many competitive advantages to its credit which qualify it to become a logistic and marine hub not only for Oman but for the Gulf region on the Arab Sea outside Hormuz Straight. The area will house an advanced petrochemical industries complex that will use secured oil and natural gas supplies. It will also house an integrated manufacturing industry area that utilize the available natural resources in al Wusta governorate. Moreover, the area is known for its abundant fish resources, which qualify it to become a hub for fish processing industries and aquaculture projects. Duqm can be also an ideal destination for those seeking tranquility and peace of mind. It enjoys modest climate during summer as well as winter in addition to the natural beauty of the region.
These competitive edges are complimented by a number of facilities and incentives provided by SEZAD Authority. Thse include 100% freehold by foreigners, tax exemption for up to 30 years renewable for similar period and easy recruitment of expatriate manpower for projects in the area. Issuance of entry visas and residency permits for expatriate manpower and their families in addition to the facilitation of customs procedures. Many services are also provided to investors in the area such as registration of business and industrial activities, issuing licenses for tourism projects and issuing environmental permits. Moreover, the land usufruct in the region is for 50 years renewable for similar periods.
杜庫木經濟特區 / 두쿰 경제특구 / ドゥクム経済特区 / डुक्म विशेष आर्थिक क्षेत्र