United Arab Emirates - المنطقة الحرة بالفجيرة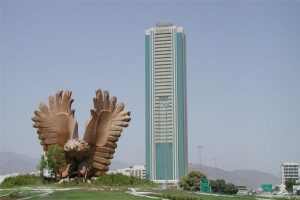 Fujairah Free Zone is adjacent to the Port of Fujairah the world's second largest bunkering hub. Companies established here have easy access to all Arabian Gulf ports. Also the Red Sea, Iran, India and Pakistan on weekly feeder vessels. Mainline services arrive from Northern Europe, the Mediterranean, Far East and North America on a weekly basis.  Plus services leave twice weekly to the Far East and once a week to North America.
Fujairah Free Zone is also close to Fujairah International Airport. This is the only airport serving the UAE East Coast as well as northern Oman.
Investors benefit from the triple Fujairah Free Zone advantage, namely the ACE -Accessibility, Connectivity & Economy.
Accessibility & personal touch of the staff, and management. Fujairah Free Zone offers a unique Connectivity – logistic link to the world; by air through Fujairah International Airport. By sea through Fujairah Sea Port, and by road to Middle East & beyond. Investors benefit by way of faster transaction, accruing due to shorter delivery times. Fujairah Free Zone (FFZ) offers an unmatched Economy – cheaper tariffs, and minimum start up time. Licenses can be issued within one working day. Reduced establishment expenses, and lower overheads, make FFZ a very cost effective investment proposition.
Additional Details
Plot sizes: Minimum plot size 5,000 sqm
Developer: Fujairah Free Zone Authority (FFZA)
Ready built factories: Pre-fabricated & fully insulated high quality warehouse units, standard unit sized being 500 sqm

Full-Day Fujairah Private Guided Tour from Dubai with Pickup - $750.00
from:
Viator, A Tripadvisor Company
WAREHOUSE  FOR RENT AT FUJAIRAH FREE ZONE
Fujairah Free Zone offers pre-fabricated & fully insulated high quality warehouse units, standard unit sized being 500 m2
Facility for loading, unloading and cargo handling. Includes parking facilities and dedicated Phone and Fax lines. Proximity to the Customs Department and administrative offices.
Fujairah
Fujairah's strategic & unique location, as the UAE's only Emirate on East Coast, plays a key role in its development. Under the leadership and vision of Sheikh Hamed Bin Mohammed Al Sharqi, the Ruler of Fujairah, the Emirates continues to grow.
An amazing amalgamation of the traditional values of the East and modern technologies of the West, Fujairah offers a standard of living comparable to that of world's most developed nations. More than a quarter million people of various nationalities, including Emirates, inhabit this Emirate of 1450 sq kms
Since the establishment of a free trade zone more than a decade ago, commercial activity in the Emirates has flourished. Due to its strategic position with the UAE's only access to the Indian Ocean, Fujairah has a bustling, important multipurpose port. In fact, Fujairah ranks as one of the top three bunkering locations in the world. Fujairah becomes an important tourist destination in U.A.E with its natural beauty, Sandy beaches, Historical attractions, mountains and Oases.

Fujairah has much to offer. This small community today enjoys modern facilities and conveniences, and is linked by modern highways to all major cities in the United Arab Emirates. Fujairah is a mere 90 minutes' drive time from Sharjah, under two hours from Dubai, and just three and a half hours from Abu Dhabi. Exploring the Mountains, Discovering Ancient and Modern Arabian Culture and Water Sports are some attractions. The main cities and villages in Fujairah are Dibba, Murbeh, Qidfa, Al Bidiyah, Masafi and Al-Siji.

Other major attractions in fujairah are Bull FIGHTING, AIN AL MADHAB GARDENS, FUJAIRAH HERITAGE VILLAGE, FUJAIRAH MUSEUM, MASAFI FRIDAY MARKET, BITHNA FORT, BIDIYA MOSQUE, AL HAIL SUMMER PALACE.