Malaysia - Taman Perindustrian Hicom Pegoh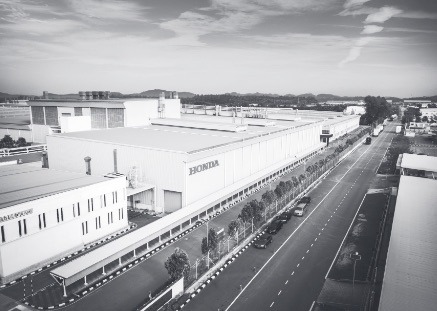 Hicom Pegoh Industrial Park is a massive industrial area located in the state of Malacca, Malaysia. It covers an area of approximately 473 acres and is one of the largest industrial parks in the state. The park has been designed to cater to various industries, including electronics, precision engineering, and manufacturing.
Infrastructure and Facilities
The industrial park boasts a range of high-quality infrastructure and facilities that enable businesses to operate smoothly. The park has a centralized wastewater treatment plant that effectively treats and recycles wastewater generated by the industries within the park. It also has a reliable power supply that can cater to the needs of businesses, ensuring minimal power outages.
One of the highlights of the park's infrastructure is the 4.2km dedicated truck lane, which enables seamless logistics and transportation of goods. The truck lane also connects the park directly to the North-South Expressway, making it an ideal location for businesses that rely heavily on logistics.
Another essential facility of the park is the industrial waste management center, which offers environmentally friendly solutions for the disposal of hazardous waste. This facility ensures that waste generated by industries within the park is handled and disposed of in compliance with environmental regulations.
Location and Accessibility of Hicom Pegoh Industrial Park
Hicom Pegoh Industrial Park is strategically located within a 2-hour drive from Kuala Lumpur, Malaysia's capital city. It is also well connected to major ports in the region, including Port Klang, Johor Port, and Tanjung Pelepas Port. This makes it an ideal location for businesses that require easy access to transportation hubs.
The park's location also offers businesses the advantage of being close to a large pool of skilled workers. Malacca has a population of over 1 million people, and the region is home to several universities and technical colleges that produce a steady stream of highly skilled graduates.
Sustainability and Green Initiatives
Hicom Pegoh Industrial Park has several sustainability initiatives in place, including the use of renewable energy sources such as solar power. The park has installed solar panels on the rooftops of its buildings, which generate clean energy and reduce the park's carbon footprint.
The park also encourages businesses within its premises to adopt green practices and technologies to reduce their environmental impact. It has set up a sustainability committee that works closely with businesses to develop and implement environmentally friendly solutions.
Additional Details

Total area: 115.04 acres. Total for development 729 acres
Land available: Phase 3 (69 acres)
Plot sizes: 3.5 acres – 10.26 acres
Developer: Glenmarie Properties Sdn Bhd
Key industrial sectors: Automotive, Logistics
Tenants: Honda, Armstrong Auto Parts, Nippon Express
Seaport: 140 km to Port Klang
Airport: 105 km to KLIA, Melaka International Airport 25.5 km
Nearest population centre: Melaka City 32.6 km