United Arab Emirates - مدينة دبي الصناعيّ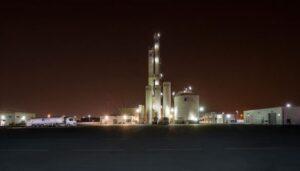 The Industrial City of Abu Dhabi (ICAD) is located at the outskirts of Abu Dhabi city. It is spread over an area spanning 40 square kilometres, with multiple clusters and vantage locations.
Each cluster in ICAD has world class infrastructure and benefits from reliable utility and communication networks. There are multiple entry points and free-flowing junctions on fully-developed roads, storage and logistic hubs. The industrial city has quick and easy access to multiple ports and airports. Market connectivity is easily attainable by sea, land and through more than 200 air routes from Abu Dhabi and Dubai in the UAE.
The cost-effective and flexible plot size appeals to a wide variety of investors. Just as appealing is the mix of heavy and light industries. These range from steel and metals to construction material, logistics, food and oil and gas.
Planned, constructed, and operated under the highest technical and environmental standards, ICAD complements existing and planned initiatives featuring adequate scalability to accommodate future demand and growth.
The Industrial City of Abu Dhabi is divided into three zones ranging from heavy, medium and light industry.
What is ICAD Approval?
ICAD offers comprehensive services that promote efficiencies and facilitate partnerships with local and international investors. The resources and facilities are planned, constructed, and operated accordingly with world-class technical and environmental standards. Each cluster plot is connected with power, water, natural gas, telecommunication, sewage services, and other necessary utilities. These complement the existing and planned initiatives featuring adequate scalability to accommodate future demands and growth. These pre-built facilities and utilities might be subjected to future enhancements depending on the needs of the industry which needs appropriate approvals from relevant authorities such as ZonesCorp, ADCD, ADM, and others.
ICAD Services and Offers
Industrial City Abu Dhabi ensures a wide range of quality business opportunities and locations with state-of-the-art and fit-for-purpose infrastructure, readily available industrial plots in prime locations, fast and efficient connections to main highways, airports, ports, and future railway connections. ICAD is also accessible to fully developed residential communities and facilities, including schools, universities, hospitals, and commercial centers in the outer metropolitan areas.
Industrial City services include but are not limited to:
Land services
    New land application, Land reservation, land modification, and land cancellation
Utilities – Power, Gas, and Water
    New applications, upgrade and downgrade options
Engineering services
    Site planning, plot leveling and demarcation, site visits. Review and approval of architectural plans, soil testing, and Building Permits
Worker Residential Cities Services
    Planning, tenancy agreements, land awarding. Permanent/temporary worker accommodation, construction permits, quality control
Foreign Labour Services
    Fast-tracking of paperwork and approvals
Abu Dhabi Approvals team helps to complete any necessary services, requirements, and submissions for certain permits and licenses needed to acquire ICAD Approval related to engineering projects of our clients.
FEATURED SECTORS
Engineering & Metals
General Industries
Chemical and Plastic
Oil and Gas services
Construction Materials
High Tech Industries
Advanced Factory Units