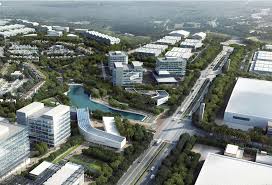 Indonesia - Kota Industri Internasional Karawang
Karawang International Industrial City (KIIC) has been an operational industrial estate since 1993, covering a sprawling 1,500 hectares. KIIC's core objective is to create an environment where tenants can seamlessly focus on their core activities without disruptions.
PT. PLN PERSERO, Tbk., known as the Power Supply Corporation, partners with KIIC through a Premium Services contract, ensuring a priority supply contract for stable electricity. With support from four major Power Substations, KIIC has a peak capacity of 540 MW. This capacity is further bolstered by two exclusive Power Substations within KIIC premises, complemented by a dedicated transformer in the surrounding Substation. This design not only minimizes electricity supply issues but also expedites recovery in case of any trouble, with the possibility of extending the maximum capacity.
Efficient Water Management at Karawang International Industrial City
KIIC's water infrastructure is fortified by a Japanese-designed and constructed industrial water and wastewater plant. For contingency, KIIC maintains two reservoirs as backup water supply sources. Raw water and Tarum Barat irrigation waterway are integral sources for water intake. A water intake permit from Jati Luhur irrigation Corporation secures a maximum intake of 1 ton per second. Ensuring preparedness during droughts, KIIC maintains an adjustment pond with a capacity of 350,000 tons. The industrial water plant employs a post-processing method, supplying 35,000 tons of industrial water per day (24 hours). KIIC maintains water supply contracts agreements with every tenant.
Infrastructure at Karawang International Industrial City
KIIC benefits from a buried natural gas pipeline network, managed by the state-owned PGN, ensuring a reliable supply of natural gas for industrial needs.
With over 1,000 lines, KIIC enjoys communication support from PT. Telekomunikasi Indonesia (Persero) Tbk, known as PT. TELKOM. Telephony, fax, ISDN, ADSL, and leased lines are integrated into KIIC's communication framework, offering flexibility and reliability. Additionally, six Internet Service Providers (ISPs) have established high-quality fiber cable networks within KIIC, providing high-speed internet connectivity.
Effective Wastewater Management
KIIC adopts a comprehensive approach to wastewater management. After primary treatment at tenant companies, KIIC's wastewater treatment plant employs an activated sludge treatment method before discharging treated water into the Citarum river, adhering to West Java drainage regulations.
KIIC's proactive approach to flood prevention involves a well-structured network of rainwater ditches, significantly reducing the impact of heavy rains. KIIC is optimally located along Jakarta Chikampek Road, with improved access following the completion of a new highway in 2019.
Towards Sustainability: Global Eco-Industrial Park Programme
KIIC's dedication to sustainability is evident through its participation in the Global Eco-Industrial Park Programme Indonesia (GEIPP-Indonesia). In partnership with UNIDO and SECO, KIIC aligns with Indonesia's commitment to a globally competitive manufacturing industry and Industry 4.0 implementation. The program encompasses various aspects, including area management, environmental preservation, and socio-economic considerations.
In conclusion, Karawang International Industrial City stands as a testament to Indonesia's industrial advancement, facilitated by robust infrastructure and a commitment to sustainability.