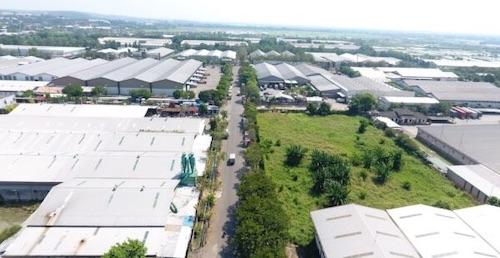 Spanning an expansive area of 250 hectares, Kawasan Industri Wijayakusuma (KIW) is strategically located within Semarang City, Central Java. Situated along the main economic artery connecting Semarang and Jakarta, KIW stands as a pivotal industrial estate in Semarang. As a state-owned enterprise, Wijayakusuma Industrial Estate is meticulously designed to embody integration, self-sufficiency, environmental consciousness, flood resilience, and immediate usability. Notably, KIW is Central Java's sole industrial estate to have secured the 'blue' proper award from the Ministry of Environment for its exceptional estate management during 2015-2016.
Ready-to-Build Land for Diverse Ventures at Kawasan Industri Wijayakusuma
PT KIW offers prime ready-to-build industrial land encompassing 250 hectares characterized by its strategic attributes. This land is meticulously curated to be flood-free and comes bereft of location permits, AMDAL, and HO. Essential infrastructure includes a network for clean water, wastewater treatment plant (IPAL), electricity, hydrant systems, and telephone connectivity.
KIW further provides ready-to-use factory buildings (BPSP), aggregating 48,388 square meters. These versatile structures cater to a range of purposes, spanning from factories to warehouses. Moreover, KIW is primed to construct new BPSP structures to fulfill the specific operational needs of investors.
Water Treatment and Waste Management Facilities at Kawasan Industri Wijayakusuma
The industrial estate hosts an advanced water treatment plant, ensuring a reliable supply of clean water meeting stringent quality standards. This clean water, substantiated by laboratory testing, is designated for industrial consumption.
Remarkably, KIW also houses a Waste Water Treatment Plant (WWTP), a distinct feature among Central Java's industrial areas. This facility underscores KIW's commitment to environmentally responsible waste processing, bolstering the efficiency of company operations.
Optimized Services: Maintenance Fees and 24-Hour Security
KIW is dedicated to offering optimal services at investor-friendly costs. Additionally, a vigilant 24-hour security team is in place, maintaining the integrity of the estate and ensuring a safe environment for businesses to thrive.
Comprehensive support is extended through an adept team of experienced firefighters, strategically positioned to respond swiftly to emergencies within the KIW premises. An on-site emergency vehicle further reinforces the estate's safety measures.
Kawasan Industri Wijayakusuma prides itself on integrated, environmentally-compliant road infrastructure that seamlessly facilitates industrial operations for investors.
KIW's management team is characterized by its professionalism, integrity, and unparalleled expertise in the field. This dedicated team is committed to bolstering investors' business endeavors. Additional facilities such as ambulance services and provisions for natural gas augment the comprehensive support infrastructure at KIW.
Empowering Investors through "CLICK" Service
KIW empowers investors with the "CLICK" (Construction Direct Investment Ease) service—a pivotal permit facilitating construction for planned investments within designated industrial zones. With this permit, investors gain the advantage of initiating construction concurrently with obtaining Principle Permits (IP). This accelerates the commencement of construction and expedites other essential permits, ultimately bolstering time and cost efficiency.
The "CLICK" service substantially expedites business initiation, enabling investors to initiate construction promptly while navigating permit acquisition. This seamless process optimizes time efficiency, subsequently benefiting early-stage financial preparations.
Notably, PT KIW stands as one of Central Java's select industrial estates to offer the "CLICK" service, reflecting its commitment to facilitating efficient and effective investment ventures. This service is awarded to only 47 industrial estates across Indonesia by the Indonesian Investment Coordinating Board (BKPM RI).
Additional Details for Kawasan Industri Wijayakusuma
Total area: 250 hectares
Land available: 100 hectares
Plot sizes: Min 10,000 sqm to 100,000 and more sqm
Ready built factories: Standard Factory Building with size starting from 1,500 sqm to 8,000 sqm.