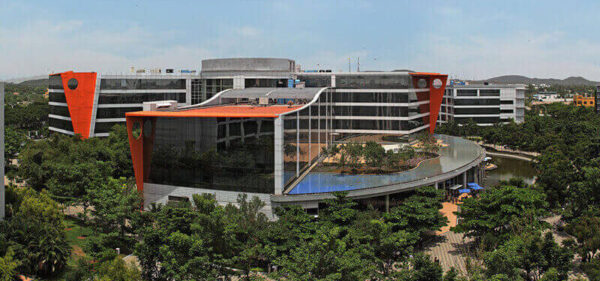 India - மஹிந்திரா உலக நகரம் சென்னை
Mahindra World City is promoted by Mahindra Lifespace Developers Ltd. This is the real estate development business of the $19.4 billion Mahindra Group.
It is India's first integrated business city and corporate India's first operational SEZ and is promoted by the Mahindra Group in partnership with Tamil Nadu Industrial Development Corporation (TIDCO). It spans over 1,500 acres and comprising of Multi Sector Special Economic Zone (SEZ) and a Domestic Tariff Area.
Mahindra World City developments comprise of co-located zones. These include a Special Economic Zone, Domestic Tariff Area and Residential & Social Infrastructure. The Social Infrastructure Zone, located alongside the Business Zone, offers residences, schools, hospitals, retail outlets, business hotels, recreation and leisure facilities complimented by wide green spaces. This is to enable balanced living, at one with the natural environment.
Expansion for businesses at Mahindra World City Chennai
The city provides corporates a world-class platform to establish and expand their businesses in a hassle-free environment to compete globally. Leading companies from auto-component, manufacturing, services, and warehousing & logistics like Infosys, Wipro, Renault Nissan, BMW, Force Motors, Husky, Breaks India, B.Braun, BASF, AAM, Armstrong International, Emerson, Fujitech, Freight System, Husky, Lear Corporation, MRV, Nilpeter, Pegatron, Timken, Sundaram Clayton, etc. among others are part of the growing eco-system at Mahindra World City, Chennai.
The Mahindra World City has been ranked among the top 3 suburbs destination in the world by The Economist in 2014. It is also among the top 5 most live-able cities in India by the JLL Livability Report, 2017. And with the world of unique and beautiful home experiences to offer here, you can buy your dream home in this thriving township.
In 2002, Mahindra World City Chennai is India's first business and leisure city that is integrated and the first corporate India operational SEZ, and was developed by the Mahindra Group in partnership with Tamil Nadu Industrial Development Corporation (TIDCO) which covers more than 1500 acres, and comprising multi-sector SEZs (SEZs) as well as Domestic Tariff Area (DTA).
Residential focus for Mahindra World City Chennai
Mahindra World City is a newly launched developing residential locality and a key employment centre situated in the southern outskirts of Chennai. It is along the extensive stretch of Grand Southern Trunk (GST) Road (NH-32).
It was established as an integrated business city under public-private partnership between Mahindra Lifespaces Group and Tamil Nadu Industrial Development Corporation. The MWC Township hosts several bungalow apartment and villa projects, both completed as well as under construction projects in Chennai.
The Mahindra Residential Developers Limited locality offers sound connectivity to its residents through a good network of rail and road comprising GST Road (NH-32), Thiruporur Road and Paranur Railway Station.
Latest investors
Ascendas India Trust to invest in additional industrial facilities at Mahindra World City, Chennai This is in addition to the earlier forward purchase transaction announced on 5 March 2021 for a 0.42 million square feet fully leased industrial facility (Casa Grande – Phase 1) within the same micro-market
Mahindra World City, Chennai ('MWC Chennai'), a first-of-its-kind integrated city built on environment-friendly principles, has achieved yet another milestone by becoming the first integrated city in India to receive third-party Zero Waste to Landfill (ZWL) certification. As part of its ZWL commitments, MWC Chennai is diverting 99 percent of waste (amounting to nearly 135 tons of waste) generated within its industrial zone away from landfills, thereby avoiding ~115 tonnes of CO2 emissions every month. The certification was conferred on MWC Chennai by Intertek, a globally recognised organisation responsible for auditing and certifying ZWL sites.
Additional Details
Total area: 1,500 acres
Seaport: Chennai Port (38 km)
Airport: Chennai Airport 55 km