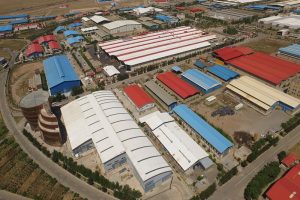 Maku Free Trade and Industrial Zone is Iran's largest and the world's second largest free trade zone. It encompasses an area of 5,000 square kilometers. Maku Free Zone has international borders with Turkey and Nakhchivan Autonomous Republic.
This zone is known as the gateway to Europe since it  connects Iran to European Markets via Turkey. The Free Zone also encompasses Bazargan customs which is the largest land customs in Iran. Expanded relations between Iran and Europe as well as the high volume of goods exchange with European countries has turned Bazargan border to one of the most dynamic borders in the country.
Abundant natural resources such as mineral raw materials, fresh water and fuel have made this zone a great area for mining and any other industrial activity. This zone also holds vast arable land that allows investors to undertake agro-based activities.
Maku Free Zone stands out by offering diverse and attractive opportunities for investment in numerous business sectors.  These include mining, farming and agriculture, culture and creative industries, as well as tourism.
There are currently 75 industrial units located in six industrial Parks in the zone.
Logistics
Logistics has the potential to turn into one of the serious sections of economic development and growth of the country.  The role of free zones as a key factor in this field is prominent. Logistics has been identified as the driving force and the core business of Maku Free Zone.  According to the economic studies, this plan will have the largest share (more than 30%) of GDP in the region.
The location of Bazargan border is the most important land border of the country and the gateway to Europe.  There are numerous logistics centers and high volume of transit through this region. Nearly 700 on-stream domestic and international transport companies, 1000 trucks' daily traffic, loading and unloading hundreds of tons at customs daily. There are more than 2,000 transport fleets, employing 6,000 people in the field of transportation and logistics. 
Industrial
There are totally six Industrial Parks in Maku Free Zone. The ownership of two Parks is at the disposal of the organization and 4 Parks are at the disposal of the Industrial Parks Company. Maku Free Zone has an area of 582 hectares, of which 69 hectares have been definitely handed over and 123 hectares are ready to be handed over.
This region has 122 active industrial and mining units, 68 of which are located within industrial estates. 47% of industrial units are active in the field of metallic and non-metallic minerals. 16% in chemical, 15% in food and medicine, 10% in textile and 12% in the field of cellulose, electricity and electronics. Of these active industrial units there are 41 mini units, 54 small units, 8 medium units and 4 large units. At present, all administrative affairs and processes, including the issuance of various licenses and land assignment for the implementation of production projects have been conducted by this management.  Currently, there are more than 500 industrial investment licenses (Establishment licenses) and 199 industrial exploitation licenses (Exploitation license) have been issued in various fields. The industry focuses on the formation of export-oriented production units in order to meet domestic needs and reduce imports.