Bangladesh - মেঘনা শিল্প আর্থিক অঞ্চল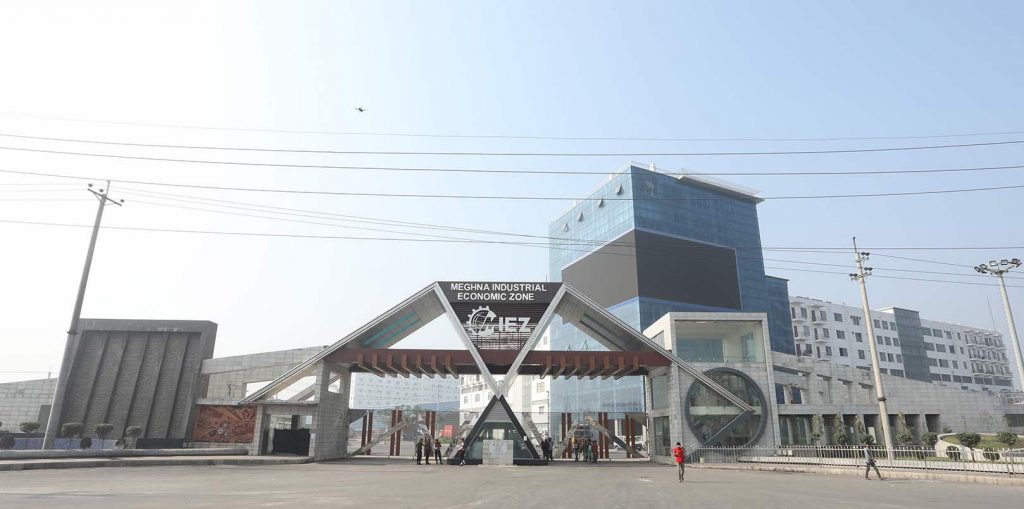 Strategically nestled along the Dhaka-Chittagong Highway in Narayanganj's Sonargaon Upazila, Meghna Industrial Economic Zone (MIEZ) spans 110 acres. MIEZ boasts fully developed infrastructure, including boundary walls, and offers levelled land ready for industrial operations. The zone's rapid progress encompasses road construction completion while utility facilities like electricity, gas, and water are being swiftly established. Acquiring its Private Economic Zone license in 2017, MIEZ emerges as a prime hub for industrial endeavors.
Achievements and Developments
In a remarkable feat, MIEZ has welcomed 22 industrial entities, including 11 foreign companies from Australia, Japan, Germany, China, India, and Norway. Notably, enterprises like Australian TIC Manufacturing, TIC Industries Pty, Japanese Sakata Inx, and German Siegwerk Limited have initiated factory operations, showcasing MIEZ's allure. Among these, Australian firms TIC Manufacturing and TIC Industry Pty stand out, producing plastic hangers for garments, contributing to a thriving workforce of 1,000 individuals. Witnessing the daily production of 2 million hangers, these quality products are exported to various global destinations.
In a significant development, Transsion Holdings, a prominent Chinese smartphone manufacturer, has unveiled its ISMARTU factory within MIEZ. This expansive facility spans over 22,000 square meters and signifies a $22 million investment in its first phase. As Transsion furthers its foothold in Bangladesh, this factory emerges as a pivotal site for mobile phone assembly, with a notable monthly production capacity of approximately 400,000 smartphones.
Furthermore, Sika Bangladesh, a subsidiary of Switzerland's Sika Group, is investing $6 million in a factory setup within MIEZ. The 10,000-square-meter facility will primarily focus on producing admixtures and grout, serving the burgeoning construction chemical market. With the successful establishment of multiple industries, MIEZ becomes a dynamic ecosystem driving employment opportunities and industrial growth within Narayanganj's Sonargaon.
Infrastructure at Meghna Industrial Economic Zone
MIEZ's strategic location adjacent to Dhaka-Chittagong Highway in Sonargaon, Narayanganj, makes it a prime investment destination. This Economic Zone spans 110 acres, with 71.9020 acres already licensed, owned by Meghna Industrial Economic Zone and its subsidiary concerns. Notably, the site offers exceptional connectivity, situated near key transportation hubs including Hazrat Shahjalal International Airport, Chittagong Seaport, Kamalapur Rail Station, and a river port.
The zone ensures uninterrupted utility services, featuring electricity from its power plants, supplemented by solar panels for sustainable energy generation. Adequate water supply and gas provision from TITAS Gas Transmission and Distribution Company Ltd. complement the infrastructure. Moreover, the presence of a Central Effluent Treatment Plant (CETP) underscores MIEZ's commitment to environmental responsibility.
Supported by a robust network of mobile communication and a nearby Inland Container Terminal, MIEZ fosters seamless operations for various industries. The Economic Zone proves conducive for diverse sectors, from beverage and food production to steel construction, plastic manufacturing, chemicals, and more. With a target investment of US$600 million and the backing of Meghna Group of Industries (MGI), a global enterprise, MIEZ stands as a testament to industrial evolution in Bangladesh.
As MGI, the parent company, continues to catalyze progress, MIEZ's significance is undeniable. Emerging from humble beginnings in 1976, MGI has grown to encompass diverse subsidiaries, distributors, and suppliers, amassing an annual turnover of approximately $2.8 billion. MIEZ, along with other economic zones, symbolizes MGI's pioneering role in driving industrial growth across Bangladesh. With a remarkable history and an ongoing commitment to expansion, MIEZ showcases the nation's evolving industrial landscape.
Additional Details for Meghna Industrial Economic Zone
Total area: 110 acres
Key industrial sectors: Beverage, food items, fiber bag, steel construction, plastic, packaging film, pharmaceutical bottles, garments accessories, plastic items, chemicals
Wastewater treatment: Effluent treatment plant
Seaport: Chittagong Sea port- 220 km
Airport: Hazrat Shahjalal International Airport – 39.8 km
Dry port: Inland port and container terminal of MGI 4 km away