Bangladesh - এ কে খান ইকোনমিক জোন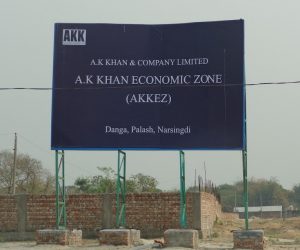 A K Khan Economic Zone (AKPEZ) is located approximately 56 km northeast of Dhaka city, Bangladesh. The new satellite town Purbachal is only five kilometres from this project.
AKPEZ has a gross area of 200 acres and is suitable to accommodate industries such as telecommunications, pharmaceuticals, agro-based industries, chemicals, aircraft instruments. Others include watches, digital equipment, electrical appliances, BPO operations, IT, surgical & biological instruments, plastics. AKPEZ is expected to create employment for more than 100,000 workers.
 The site is bounded by R301 (Kaligonj-Ghorashal Rd) to the north, R301 (Panchdona-Ghorashal Hwy) to the east, Z2047 (Panchdona-Danga Rd) to the south which is connected with the Danga-Kaligonj Road which is leading to the site.
Purbachal – New Town
New satellite town Purbachal is only 5 (five) KM from this project . There is Soheed Moyez Uddin Bridge passing through R301 to the 6km upstream of the Shitalakhya River from the site, and just adjacent to the north Ghorashal Railway Bridge. Furthermore, the site location of AKPEZ will portray spectacular advantages due to the connectivity of the surroundings through both waterways and road. Such as Chittagong Port, railway station, Narayangonj & Narshingdi industrial zones and EPZs'.
A Riverside Inland Container Terminal (RICT), is an Integral part of AKPEZ. It will cater port services to all Industries & factories of AKPEZ. The terminal will have additional incentives of this AKPEZ over the road connectivity for its all investors whose products will need port services. The attractiveness and advantages are as follows.
Big scaled logistic center will not be required for the factories & industries of AKPEZ due to presence of Container Terminal at their doorstep. Only small space for logistic /container truck will be sufficient for the investors in AK PEZ.
All the industries & factories of AKPEZ will get port services at their doorstep. Instead of waiting for few days to get it from Chittagong Port. Arrangement to provide BL on boarding the container on the barges of AKCT. These will work as part of AKPEZ. Saving of time to get this BL, which is bankable document, will be a great advantage for the investors of AKPEZ.
For transportation of their cargo, factories & industries of AKPEZ will use river route. This is more cost effective, safe & environment friendly as compared to road transportation.
Additional Details
Total area: 200 acres.
Workforce: Projected 100,000
Seaport: In house port facility, 270 km to Chittagong port.
.

10 Days Bangladesh Private Tour - $1,634.62
from:
Viator, A Tripadvisor Company
Contact us below for more industrial land for lease or sale
A K カーン経済圏バングラデシュ
AK Khan 经济区 孟加拉国
A K 칸 경제 구역 방글라데시