Abdul Monem Economic Zone
আব্দুল মোনেম অর্থনৈতিক অঞ্চল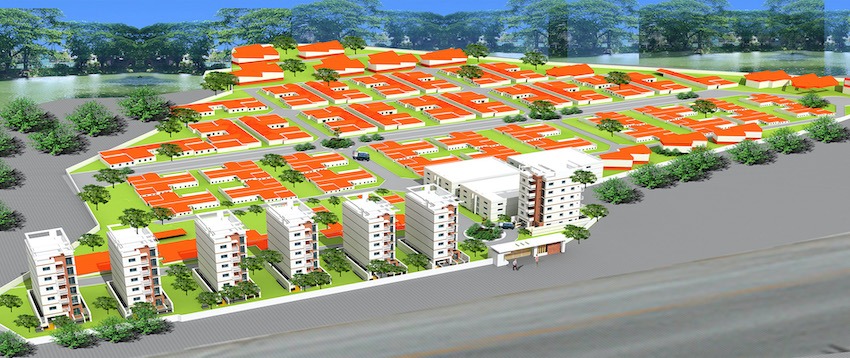 Abdul Monem Economic Zone aims to become a catalyst for the economic and social development of Bangladesh, by transforming the country into a middle income country by 2021 and a developed country by 2041 through the establishment and continuation of world class customer services at our state of the art facilities. The zone is situated 37 km towards east of Dhaka city adjacent to Dhaka-Chattagram highway near the Meghna-Gumti bridge. Master plan includes 6.5 km of boundary walls, 10 km of internal roads, 1.2 km of artificial water body and jetty facility.
Abdul Monem Economic Zone Ltd, situated in Gazaria of Munshiganj, has targeted to set up eco-friendly garments and textile, electronics, ICT, food processing, plastic, furniture, pharmaceuticals, and light engineering industries.
Bangladesh Honda Private Limited, a joint venture of Honda Motor Company Limited of Japan and Bangladesh Steel and Engineering Corporation, has invested in the zone and begun marketing bikes made in the factory.
Additional Details
Total area: 189.94 acres (planned approx 500 acres)
Key industrial sectors: Motor parts assemblying factories, Industrial ink, Food processing and likewise industries
Tenants: Honda, Sakata Inx
Workforce: Projected 100,000
Electricity supply: 11 KV REB connections.
Industrial plot long-term or short-term lease
On-site foreign/ visiting employee residence facility
Security services & Central e- services
Standard Factory building and office space renting equipped with shared and networked workstations
One-stop administrative services (Registration, licensing. NOC, VISA processing etc.)
Emergency medical facilities and day-care center
Commercial facilities service ( Financial institutions, retail shops, exhibition centers, R & D facilities, restaurants & recreation centers etc.)
Common Warehousing facilities
Rooftop / vertical Helipad for commercial helicopter carrying emergency passengers
Roads and utility services (Power, Gas and Water)
WTP/CTP facilities
Value added services like advertising, market analysis, recruitment outsourcing, logistic, insurance, transportation etc.
 

3 Days Bangladesh Tour: Historical Dhaka and The Ancient Sonargaon - $389.75
from:
Viator, A Tripadvisor Company