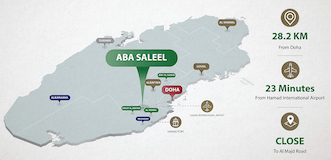 Aba Saleel Logistics Park serves as a major logistics area in Qatar. Providing investors with the perfect breeding ground for their business, and the infrastructure required to cater their needs. Offering plot sizes of that, this park is ideal for small enterprises.
With an area of 0.64 sq km, Aba Saleel Logistics Park has an excellent connectivity to regional transport links via the road networks. It is in close proximity to gateways such as Al Wakra Logistics Park, Messaied Industrial Zone and Hamad Port, as well as Um Alhoul Special Economic Zone.
Aba Saleel's small sized plots were released at the end of 2015 for the establishment of modern warehouse facilities to serve the local market.
Brand New Warehouse with Rooms For Rent for labourers at Abu Saleel with an area of 1,000 sqm.
Additional Details
Total area: 64 hectares
Key industrial sectors: Logistics
Tax Exemptions
Qatar is one of the least taxable countries in the world; there is no tax on personal income in Qatar. Businesses pay an annual fixed tax rate of 10 per cent of the company's total income. Capital gains arising from the sale of real estate and/or securities derived by an individual are exempt from tax provided the asset is not part of a taxable activity (i.e. trade)
Tax exemptions apply to:
•    Profits and revenues on Public Treasury Bonds, Development Bonds, and Public Corporation Bonds.
•    Dividends and other income from shares.
•    Small handcraft businesses.
•    Income of companies operating in agriculture, fisheries, aerial, and maritime transportation, on condition of reciprocity.
•    Income tax on foreign capital for a period not exceeding 10 years from the date of operation of an investment project.

(Private Combo Tour) North Qatar and South Desert Safari Tour - $190.00
from:
Viator, A Tripadvisor Company