Bangladesh - আকিজ অর্থনৈতিক অঞ্চল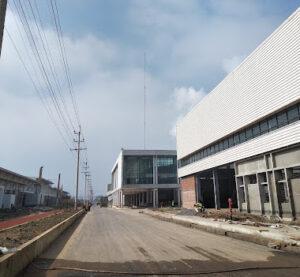 Akij Economic Zone from one of the main conglomerates in the country will be established at Mothbari union in Trishal of Mymensingh with over 100 acres of land. Pre-qualification licence was provided in 2016.
Akij Group will invest about Tk 1,500 crore to set up three industrial plants in its Akij Economic Zone in Mymensingh. This is to produce raw materials for plastics which will cut imports.
At these plants, Akij will produce formaldehyde, biax film and urea moulding compounds, which are now imported. The company received a prequalification licence from Bangladesh Economic Zones Authority or Beza for building the economic zone.
Akij Group is one of the largest Bangladeshi industrial conglomerates. The industries under this conglomerate include textiles, tobacco, food & beverage, cement, ceramics, printing and packaging, pharmaceuticals, consumer products etc. In 2009, Akij Group paid 390 million euros in tax, making it the biggest local tax-payer. It contributed two per cent to this nation's entire budget. Akij also provides services in healthcare, information and communication technology. Its turnover in 2009 was 89 billion Taka. In 2018, Akij sold their tobacco division to Japan Tobacco for a sum of $1.47 billion. It was the biggest ever single foreign direct investment in Bangladesh.
Industries and mills
Mymensingh Division, formerly Nasirabad has three large industries. There are about 141 significant medium and small scale industries and factories, out of which 90 are located in the BSIC industrial city of Mymensingh.  The remaining 50 are in Bhaluka.
Historically, Mymensingh district was known for jute production which was termed 'golden fibre' due to the revenue it generated as a cash crop for the producers. Due mostly to the high demand for polythene bags the jute industry has significantly declined.
For more information please contact us here.
Find out more about industrial facilities in Bangladesh

Private Tour: 3 Days in Bangladesh; Dhaka and Ancient Sonargaon - $400.00
from:
Viator, A Tripadvisor Company