Pakistan - علامہ اقبال انٹرنیشنل ایئرپورٹ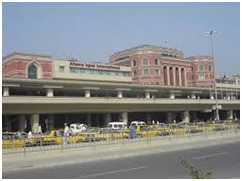 Allama Iqbal International Airport Lahore is situated on eastern side of Lahore, Pakistan. It is spread over a total of 1,364 acres. It comprises of new terminal complex, an old terminal building including State Lounge and Hajj Lounge. The airport can accommodate a Boeing 747 jumbo jet.
The new terminal complex was commissioned in March 2003. Allama airport is presently handling 4.21 million passengers (Domestic / International, Arrivals / Departures) and 85,000 tons of cargo per annum. Presently 15 airlines are operating which includes 4 local airlines i.e. PIA, Air Blue, Air Indus and Shaheen and 11 international airlines i.e. Emirates, Etihad, Qatar, Saudia , Gulf Air, Air Arabia, Thai Air, Turkish Air, Kuwait Airways, Oman and Fly NAS.
The airport is about 15 kilometres from Lahore city centre.

Chauffeur: Lahore International Airport Transfer - Departure - $30.00
from:
Viator, A Tripadvisor Company
A new terminal complex completed in 2001 includes enhanced parking facilities for up to 20 aircraft, with modern amenities. The terminal has the capacity to handle more than 5 million passengers. There is also a modern Cargo Village.
With Lahore becoming a regional aviation hub and with greater accessibility to northern districts due to the motorway, the cartage of goods to and from Lahore is likely to increase. The cargo complex is aimed at enhancing exports to contribute towards economic growth in the region.
Cargo business at Lahore
The cargo business at the airport is thriving with transport exceeding 75,000t a year (2008 figures). The new cargo village was completed by late 2006. The cargo capacity of this facility, which will include all modern facilities such as cold storage and goods areas of various categories, is 60,000t a year.
Air Blue, a new private passenger carrier at the airport, has also launched an e-Cargo service to enable direct booking of freight services online to give more access to competitive prices and make the process easier.
In July 2019, the airport inaugurated its second Air Cargo Control Unit (ACCU) to improve air cargo security.