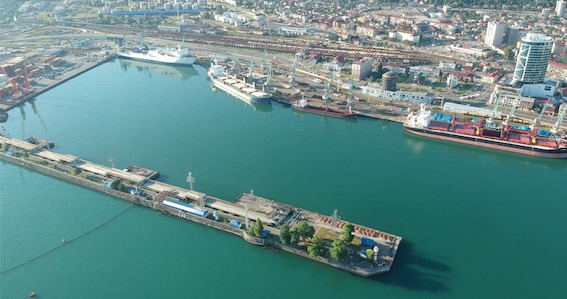 Batumi Port is the main oil and gas port in Georgia as well as for non-containerized cargo handling. Kazakhstan's national oil and gas company JSC NC KazMunaiGaz is the operator of the port. Currently there are five terminals and 11 berths. The total throughput of the Port is 18 million tons per year.
American corporation Trammo will invest $20 million to build a new terminal at Batumi Port.
As an investment from 2008 to date, the BSP was attracted 48 million US dollars.
Highly professional team, developed infrastructure, advantageous location and versatility, allow to provide consumers with a wide range of high quality services in the optimal terms.
Dynamic growth of cargo turnover is evidence of inexhaustible production opportunities and purposeful, active work. The port comes to a new level and will continue to develop, as it has the potential to achieve even better results.
The list of processed goods includes:
Metal products
Ore concentrates
Grain
Cement
Fertilizers
Corn & technical oils
Building materials
Raw sugar
Others

Currently in Port there are 5 terminals and 11 berths + CBM (point without berthing loading). The total throughput of the Port is 18 million tons per year. The number of ships of the port fleet totals 13 units. The enterprise has implemented and maintains a quality management and environmental protection system certified by the independent Bureau Veritas Certification for compliance with international standards
The international cooperation at Batumi Port

Batumi port takes part in many transport projects and corridors, being a participant of the Trans-Caspian International Transport Route TITR, the Eurasian transport corridor TRACECA and the Association of ports of the Black and Azov Seas BASPA.
The Coordination Committee for Development was established with the aim of attracting transit, pursuing a coordinated policy on setting tariffs for the transport of goods (cross-cutting rates), developing infrastructure and creating a joint integrated logistics product.
Operating data
|   | 2014 | 2015 | 2016 | 2017 | 2018 | 2019 | 2020 | 2021 |
| --- | --- | --- | --- | --- | --- | --- | --- | --- |
| Dry cargo turnover, thousand MT | 1 203 | 1 046 | 862 | 795 | 1189 | 694.5 | 913 | 1 211 |
| Oil&oil products, million MT | 4.5 | 3.9 | 3.4 | 2.1 | 1.0 | 0.9 | 1.2 | 1.5 |
| Containers turnover, TEU | 61980 | 54695 | 55781 | 76025 | 90002 | 116081 | 103302 | 99187 |
| Ships call, unit | 585 | 570 | 663 | 527 | 584 | 578 | 589 | 567 |