Vietnam - Nhà ga quốc tế Cái Mép (Vũng Tàu)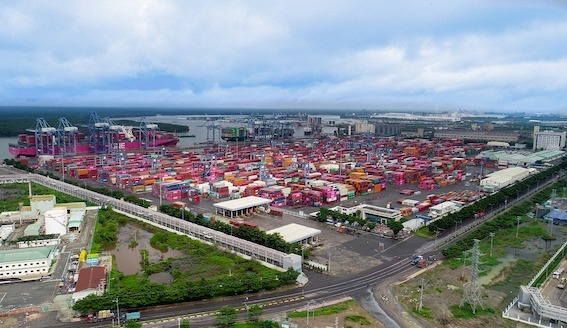 Cai Mep International Terminal Co., Ltd (TCIT) is a joint venture among Saigon Newport Corporation, Mitsui O.S.K. Lines (Japan), Wan Hai Lines (Taiwan) and Hanjin Transportation (Korea). The Investment Certificate was granted for TCIT by the Vietnam Government in September 2009. It has a capital investment about USD 100 million, equivalent to around VND 2,000 billion.
The terminal started operations in January 2011. Being a deep-water port located near Cai Mep – Thi Vai river T-junction, 18 nautical miles away from Vung Tau, TCIT is expected to bring international standard of terminal operation services to customers. 
Services at Cai Mep (Vung Tau) International Terminal
The terminal is a deep-water port located near Cai Mep – Thi Vai river T-junction, 18 nautical miles away from Vung Tau pilot station. TCIT can provide high level of convenience for transshipment cargoes to Ho Chi Minh City, Binh Duong, Dong Nai, Long An and vice versa. The channel depth is minus 14 meters, water draft at berth could reach minus 16.8 meters, turning basin has a diameter of 500 meters. The terminal serves large container vessels up to 160,000 DWT (approximately 14,000 Teus).
Facilities
Terminal facilities are highly invested with main berth of 890 meters in length, three barge berths of 270 meters in length, 55 ha container yard with a capacity of nearly 51,500 Teus. In addition, TCIT is equipped with all modern and environmentally friendly equipment. This includes ten STS cranes, 22 e-RTG cranes, 03 dedicated cranes for barge operation. Also 74 internal trucks, 04 reach stackers and 05 empty container handlers along with innovative technology – TOPS (Terminal Operations Package – System). This is provided by Realtime Business Solutions – RBS/Australia.
The terminal is fully support by Saigon New Port Corporation, the biggest terminal operator in Vietnam. It also has three well-known partners: M.O.L., WHL and Hanjin. TCIT is on the fast move and will soon become a world-class container terminal operator. The mission is to provide the most reliable and competitive services to customers. Meanwhile keeping our focus on ensuring health, safety and environmental sustainability.
Additional Details
Total area: 55 hectares
Container | Berths: 3
Container Length: 890 metres
Container Capacity: 45,000 TEUs
Draft / maximum vessel size: 14 metres
Reefer points: 1,080
Container cranes: Quayside Mobile Gantry Cranes: 10, Rubber Tired Gantry Crane: 22