Indonesia - Kawasan Industri Candi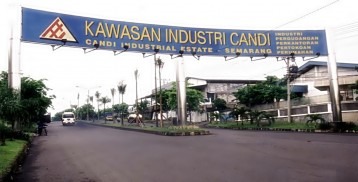 Candi Industrial Estate has an area of ​​450 hectares and is located in the Krapyak area of ​​Semarang, Indonesia. In the area in front of the entrance to the Industrial Estate, the offices are Astra Rent A Car, Mobil 88, PT Atlas Copco Indonesia. There are also major banks.
The Candi Industrial Estate was chosen because of its close access to the Tanjung Emas Port in Semarang and Ahmad Yani International Airport. In addition, this area is also flood free so that the production and distribution process is not interrupted throughout the year. This integrated industrial area is a factory center and also a one-door warehouse that makes it easy for entrepreneurs to set up factories or just as a distribution center for the Central Java area. Large factories began to be established for various industries ranging from garment,food and beverage, and heavy machinery. Others include cosmetics, pharmaceuticals and also warehousing as distribution centers.
Additional Details
Total area: 450 hectares
Seaport: 14 km to Tanjung Mas Seaport
Notable tenants at Candi Industrial Estate
PT Arindo Garmentama
We are an Indonesian based garment company with more than 20 years of experience in the industry. Our production facilities have been equipped with modern machines and tools to give the superior quality of finished garments.
Our main products are, but not limited to; windbreakers, tracksuits, jogging sets, shorts, trousers, dresses, parkas, blouse, jackets, overall, children suits, skirts, etc.
PT Volta Indonesia
Volta carries the concept of the Battery Change System (SGB) as a driving innovation to reduce the use of fuel oil (BBM). This is also our effort to support the government in implementing the Battery-Based Electric Motorized Vehicle  program. Also seeing the potential for electric vehicle users in Indonesia is expected to continue to increase until 2025.
Creating and developing various technologies to advance the country, especially environmentally friendly transportation technologies. Also optimizing the use of company resources to produce products and services that are of high quality.  To have strong competitiveness in order to increase benefits for the wider community. Volta targets the B2B, B2G and B2C markets by building a dealership network with 4S, Sales, Service, Spare Part and SGB schemes. This year the target is 25 networks, and next year 100 dealer networks.
PT. Volta Indonesia Semesta has a complete manufacturing license, and this is an absolute requirement for the development of electric vehicles in Indonesia: