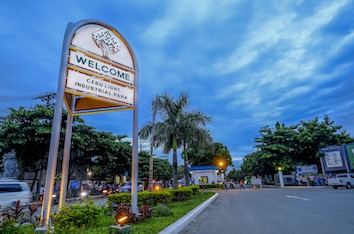 Cebu Light Industrial Park is a 62-hectare industrial estate located on Mactan Island in the province of Cebu, one of the Philippines' fastest growing regions. The project is a registered Economic Zone (Ecozone) under the Philippine Economic Zone Authority (PEZA).
CLIP is strategically close to the international airport and seaport facilities. It is just a mere 10-minute drive or 6 kilometers away from Mactan-Cebu International Airport and approximately 8 kilometers from Cebu International Seaport.
Additional Details
Wastewater treatmentCentralized Waste Water Treatment Plant (WWTP) to process effluents up to 1000 Biological Oxygen Demand (BOD) and has a capacity of 4,000 cubic meters per day.
SecurityRound the clock security. Concrete industrial zone perimeter fence.
Airport10-minute drive from the Mactan Cebu International Airport
Ready built factoriesReady for Occupancy Buildings
Cebu Light industrial Park (CLIP) is among the three economic zones operating in Lapu-Lapu Cebu. One of the secured industrial estates housing several foreign companies that specialize in electronics, packaging and precision technology.
Direct access from Mactan international airport and Cebu Seaport.
Whether it's reliable electric grid, steady water supply system, security or in-house fire-fighting capabilities. SPPI prides itself in providing nothing short of world-class facilities and services to all its locators.
Other services and amenities include transportation within the estate, bank and healthcare facilities, and even freight forwarding. With these unrivalled services, we aim to facilitate the day-to- day needs of the tenants.
Park Administration is composed of full-time professional staff with proven competence and experience, and its programs for both environmental management and community development are multi-awarded. The on-site Management Team takes on the maintenance of common facilities, administration of park security and safety, and coordination with regulatory agencies to safeguard the smooth continuity of our locators' operations.