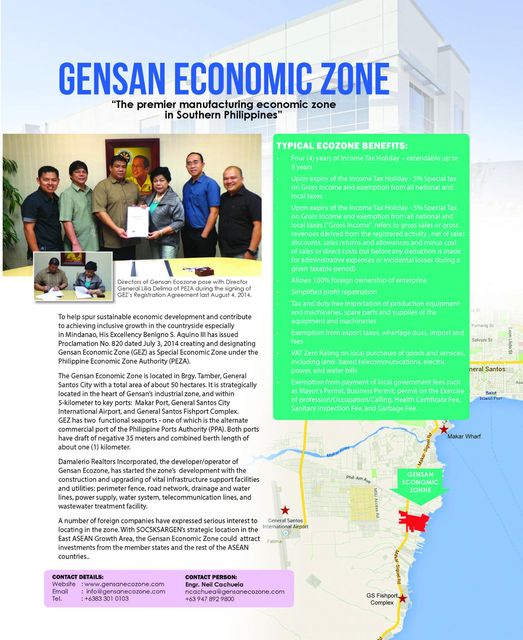 The Gensan Economic Zone is located in General Santos City, Philippines with a total area of about 50 hectares. It is strategically located in the heart of Gensan's industrial zone, and within 5-kilometer to key ports: Makar Port, General Santos City International Airport, and General Santos Fishport Complex. GEZ has two functional seaports – one of which is the alternate commercial port of the Philippine Ports Authority (PPA). Damalerio Realtors Incorporated, the developer/operator of Gensan Ecozone, has started the zone's development with the construction and upgrading of vital infrastructure support facilities and utilities: perimeter fence, road network, drainage and waterlines, power supply, water system, telecommunication lines, and wastewater treatment facility.A number of foreign companies have expressed serious interest locating in the zone. The Gensan Economic Zone could attract investments from the member states and the rest of the ASEAN countries.
DEVELOPMENT VISION GENSAN
Green City of the South. Financial Center of Region XII, regional Agri-Industrial and transhipment of SOCSKSARGEN and a model of harmonious multi-cultural city; with a healthy, disciplined, socially-protected, empowered and educated citizenry; driven by a diversified, competitive, resilient and inclusive economy; endowed with a balanced, sustainable and well-managed environment; equipped with efficient, hazard-resistant and world-class infrastructures; and governed by a visionary, responsive, participatory and transparent leadership.
ORGANIZATIONAL VISION
A learning organization delivering total quality service that delights its customers.
QUALITY POLICY
We, the local Government of General Santos City, aspire to be globally competitive while enchaning the quality of life of our citizen towards a sustainable future. We are committed to providing quality services to all members of our society. We shall continually strive to improve our city, our people and our services while we foster the rule of law and equal opportunity for all.
MISSION STATEMENT
To pursue a stable local economy supportive of development and growth, environmental protection, and security for all people in General Santos City