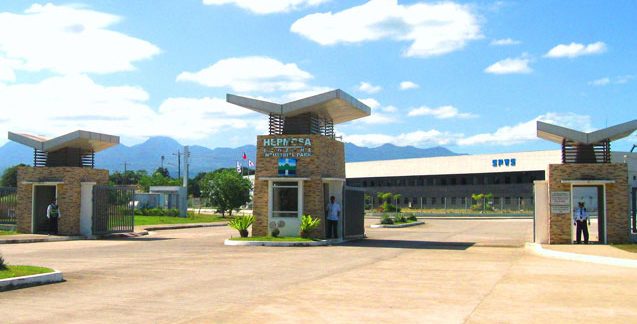 Hermosa Ecopark Industrial Zone (HEIP) is a 162-hectare industrial estate located in the province of Bataan, Philippines. The property is part of a larger 478-hectare mixed-use development project by the Hermosa Ecozone Development Corporation. The Science Park of the Philippines, Inc. (SPPI) is a shareholder and General Manager.
HEIP is a registered Special Economic Zone (Ecozone) under the Philippine Economic Zone Authority (PEZA). Offering tax incentives and other benefits to companies that operate within its boundaries. The industrial park offers a wide range of facilities and services for tenants, including 24-hour security, power and water supply, waste management, and transportation.
HEIP is strategically located near major transportation hubs, including the Subic Bay Freeport Zone and the Port of Manila. This makes it an ideal location for companies engaged in manufacturing, logistics, and other industries. The industrial park also benefits from its proximity to major highways, such as the North Luzon Expressway and the Subic-Clark-Tarlac Expressway.
HEIP's tenants include both local and international companies, with a focus on industries such as electronics, automotive, and food processing. The industrial park has attracted significant investment in recent years. Over PHP 2.5 billion in committed investments as of 2020.
Infrastructure at Hermosa Ecozone Industrial Park
HEIP's commitment to sustainability is reflected in its environmentally-friendly infrastructure and services. The industrial park features an on-site sewage treatment plant, rainwater harvesting facilities. It also includes an eco-park with a jogging path and fitness stations.
In addition to its industrial facilities, HEIP offers commercial and residential components, including a retail mall, hotel, and residential condominiums. These components provide a complete ecosystem for businesses and their employees. HEIP is a true live-work-play environment.
Overall, Hermosa Ecopark Industrial Zone is a well-planned, sustainable, and strategically-located industrial park that offers a range of facilities and services for its tenants. Its registered Ecozone status and close proximity to major transportation hubs. It makes it an attractive location for companies seeking to establish operations in the Philippines.
Location
HEIP is strategically located right in the middle of the country's growth corridor of Subic Bay Freeport Zone in Zambales and Clark Special Economic Zone in Pampanga. It is connected via road to Dinalupihan Interchange of the Subic–Clark–Tarlac Expressway (SCTEx). The major link to Subic Bay Freeport Zone and Clark Special Economic Zone. Its proximity to Subic and Clark, which is only 15 kilometers and 35 kilometers away, respectively, is significant for companies that wish to avail of Subic international seaport and Clark Diosdado Macapagal International Airport.
Additional Details
Total area: 162 hectares.
Electricity supply: Power is supplied by Peninsula Electric Cooperative (PENELCO) via 10MVA substation.  Distributed at 13.2KV stepped down to 460/230V at the customer service entrance.
Wastewater treatment: Centralized Waste Water Treatment. Facility with a capacity of 12,000 cubic meters per day processes effluents with up to 1,000 ppm Biochemical Oxygen Demand ("BOD").
Water supply: Water is supplied by deepwells and water recycling facility through a dual piping system with a total capacity of 18,000 cubic meters per day.
Telecommunications: Fiber Optic Cable Technology for Voice, Fax, Data, Video Conferencing and Internet Service capabilities is provided by Digitel and Philippine Long Distance Telephone Co. (PLDT).