Azerbaijan - Heydər Əliyev Beynəlxalq Hava Limanı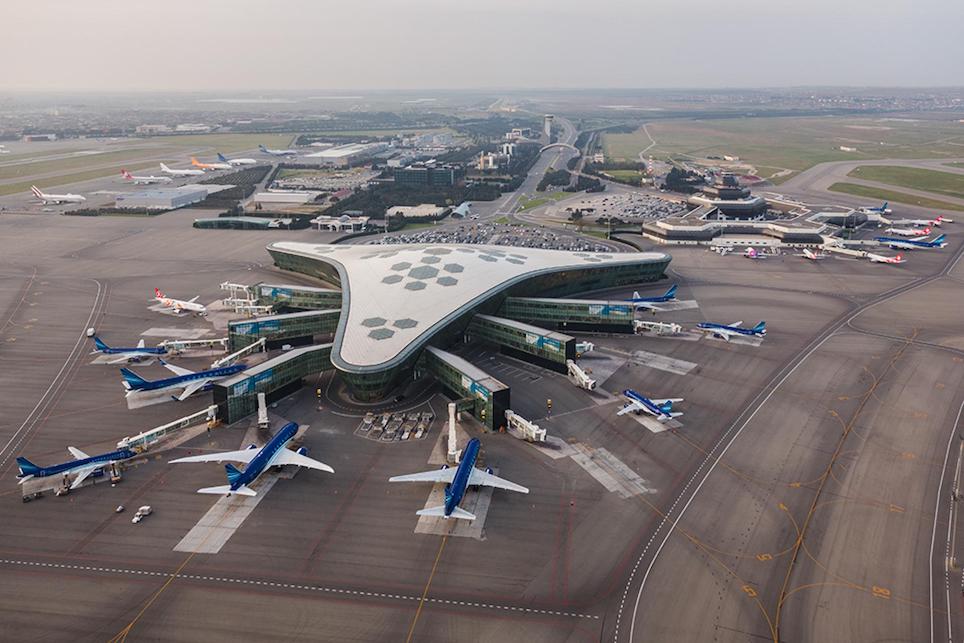 Heydar Aliyev International Airport is one of the six international airports in Azerbaijan, located in the capital city of Baku. The airport was renamed in honor of the former President of Azerbaijan on 10 March 2004. He served as the head of state for 35 years.
The airport covers an area of 65,000 square meters and has two runways. The first runway is 3,200 meters long and 45 meters wide. The second runway is 3,700 meters long and 60 meters wide. The airport has a capacity to handle up to 5 million passengers annually, and it has been modernized and expanded several times. This is to meet the growing demand for air travel in the region.
Heydar Aliyev International Airport has become an important hub for both passenger and cargo operations, with its strategic location between Europe and Asia. The airport handles a large volume of cargo operations, serving as a vital gateway for the transportation of goods between the East and the West. In 2020, the airport handled a total of 34,873 tons of cargo, demonstrating a consistent growth in cargo operations over the years.
Cargo Terminal
The cargo terminal at Heydar Aliyev International Airport covers an area of 7,000 square meters and has a capacity to handle up to 80,000 tons of cargo per year. The terminal is equipped with handling equipment, including x-ray machines, cargo loaders, and forklifts. The terminal has also been designed to handle a wide range of cargo, including perishable goods, dangerous goods, and oversized cargo.
In order to ensure smooth and efficient cargo operations, the airport has implemented advanced cargo tracking and monitoring systems. These systems enable real-time tracking of cargo movements, from the moment it enters the airport to the moment it is loaded onto the aircraft. The airport also offers a wide range of cargo handling services, including storage, packaging, and customs clearance.
Today Heydar Aliyev International Airport is a large regional transportation hub. It serves passengers and cargo flights flying around the world. The airport is located 20 kilometres northeast of Baku. It is connected to the city by a modern highway, which was put into operation in 2008. The airport serves as the home base for national carrier Azerbaijan Airlines.
Additional Details
Runway: Two – 4,000 m & 3,200 m (Asphalt-Concrete)
International destinations: Moscow, Doha, Istabul, Tashkent,Kyiv, Paris, Barcelona.
Cargo handling facilities: Total area of Baku Cargo Terminal warehouse is 12000 m2. Cold store available. 
Cargo throughput: 200 tonnes per day.
Cargo companies operating at Heydar Aliyev International Airport in Baku, Azerbaijan
Silk Way West Airlines: This is the largest cargo airline in Azerbaijan, offering a range of cargo services. They operate flights to destinations across Asia, Europe, and the United States. Website: https://www.silkwaywest.com/
Qatar Airways Cargo: This cargo division of Qatar Airways operates regular flights to Baku, transporting a range of cargo including pharmaceuticals, perishables, and dangerous goods. Website: https://www.qrcargo.com/
Turkish Airlines Cargo: Turkish Airlines Cargo operates a weekly freighter flight to Baku, offering a range of cargo services including perishable cargo, live animals, and dangerous goods. Website: https://www.turkishcargo.com.tr/en
Lufthansa Cargo: Lufthansa Cargo operates regular cargo flights to Baku, transporting a range of goods including high-tech products, live animals, and pharmaceuticals. Website: https://lufthansa-cargo.com/en/homepage
Cargolux: Cargolux is a Luxembourg-based cargo airline that operates a weekly flight to Baku. They transport a range of goods including perishables, pharmaceuticals, and high-tech products. Website: https://www.cargolux.com/