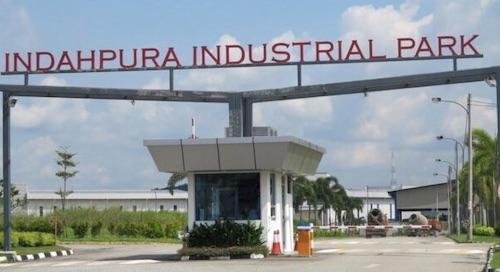 Malaysia - Taman Perindustrian Indahpura
Nestled within the vibrant Kulai district of Iskandar Malaysia, Indahpura Industrial Park stands as a beacon of industrial development. Boasting a comprehensive range of facilities and strategically positioned in proximity to key transportation networks, this industrial zone has carved a niche for itself as a hub for diverse businesses seeking to thrive in the heart of Johor.
Spanning an expanse in Kulai, Indahpura Industrial Park offers a unique mix of opportunities for businesses seeking a well-connected and strategically located industrial setting. Comprising 111 detached factory units, each with a built-up area starting from 13,950 square feet onwards, the park caters to enterprises of varying sizes. The availability of three distinct factory layouts – Type A, B, and C – ensures a customized fit for diverse operational requirements.
Tailored Layouts for Varied Needs at Indahpura Industrial Park
Indahpura Industrial Park offers flexibility through its three factory layouts, designed to accommodate different business needs. Types A and B share similar layouts, optimized for seamless operations. For larger-scale ventures, Type C, with an expansive 25,000 square feet space, can be tailored to match specific business demands. Such versatility ensures that businesses find an environment that nurtures their growth and efficiency.
Recognizing the significance of a secure working environment, Indahpura Industrial Park prides itself on being a gated and guarded community. Unlike some industrial hubs, where security might be a concern, this park ensures that safety remains paramount. The presence of security measures fosters peace of mind for business owners and their workforce, promoting a conducive atmosphere for productivity.
Strategic location of Indahpura Industrial Park
Strategically situated within Kulai and the Iskandar Development Region, Indahpura Industrial Park offers more than just a business address. The proximity to a plethora of new amenities and emerging opportunities enhances its allure. The nearby Kulaijaya township provides access to a range of conveniences, including restaurants, mini-marts, offices, and more. Additionally, the AEON Mall Kulaijaya is a short distance away, allowing occupants to enjoy leisure activities and convenient shopping.
Living within arm's reach of the factories are residential areas, providing suitable accommodation options for those employed in the industrial park. Entrepreneurs and investors can leverage this proximity to the property market by offering rental units for workers. Beyond the basics, Indahpura Industrial Park is also conveniently located near Johor Premium Outlets, IOI Mall Kulai, and Palm Resort Golf and Country Club, serving as entertainment hotspots in the vicinity.
Connectivity through Key Highways
The ease of connectivity plays a pivotal role in Indahpura Industrial Park's attractiveness. The Putra Utama Highway stands as a primary access point, seamlessly linking the park to the Kulai area. The Malaysia-Singapore Second Link Highway provides an efficient route for transporting goods to the neighboring country. Furthermore, the North-South Highway (NSE) is readily accessible from the park, ensuring that logistical operations remain smooth and unhindered.
Indahpura Industrial Park's location within Indahpura, a thriving township in Kulaijaya, makes it a vital contributor to Iskandar Malaysia's growth story. Designed as an integrated township, Indahpura is well-connected to major trunk roads and expressways, solidifying its status as a cornerstone of Johor's development. With proximity to Johor Bahru, Kulai, and major transportation hubs, the park serves as an enabler of growth and efficiency for businesses seeking a strategic edge.
Fulfilling the Vision with Expertise at Indahpura Industrial Park

Indahpura Jaya Development Sdn Bhd, a collaboration between Eastern Group and Bond Group, stands behind the success of Indahpura Industrial Park. Eastern Group, with over 32 years of experience, specializes in build-to-suit lease of industrial buildings and has evolved into a design and build turnkey contractor. On the other hand, Bond Group, which started as an electrical contractor in Singapore in 1979, has expanded its services to cater to a variety of construction industry needs.
As a testament to its commitment to excellence, Indahpura Industrial Park's partnership between Eastern Group and Bond Group reflects their dedication to contributing to Johor's industrial landscape. With a track record of growth and adaptability, these groups ensure that the park thrives as a dynamic and thriving business environment.
Indahpura Industrial Park, with its strategic location, versatile layouts, and commitment to safety, emerges as a pivotal player in facilitating business growth in Johor. The convergence of residential proximity, connectivity, and the vision of its development partners propels this industrial park into the spotlight, shaping the industrial landscape of the region.
Additional Details
Total area: 7,290 acres
Land available: 228 acres
Developer: Johor Corporation
Key industrial sectors: Food & Beverages, Textile&Rubber
Seaport: 77km (Tanjung Pelepas Port)