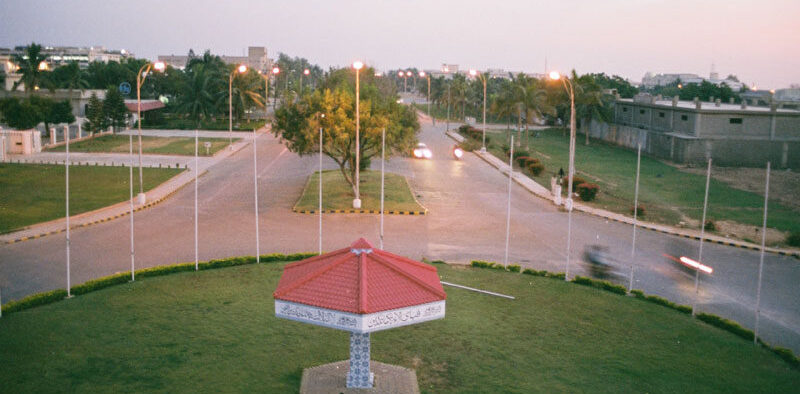 Pakistan - کراچی ایکسپورٹ پروسیسنگ زون، پاکستان
Located within the bustling expanse of the Landhi Industrial Area in Karachi, Pakistan, the Karachi Export Processing Zone (KEPZ) stands as a testament to strategic location considerations. Its inception traces back to the year 1980. It was orchestrated under the purview of the Export Processing Zones Authority (EPZA) of Pakistan. This establishment reflects a calculated step towards bolstering the nation's industrial prowess.
Encompassing Scope and Spatial Coverage
Spread across a sprawling expanse encompassing approximately 1,000 acres, KEPZ signifies a sizeable territorial ambit dedicated to export-oriented endeavors. This considerable area underscores its significance as a designated enclave intended to foster economic activity while adhering to specialized parameters.
The genesis of KEPZ is underpinned by a comprehensive agenda—to attract both foreign and domestic investments within the realm of export-centric industries. It has a focused approach on precipitating manufacturing and processing activities geared towards outbound trade. KEPZ is strategically poised to amplify Pakistan's export capacity. Noteworthy incentives and facilities galvanize its role as an incubator for industrial growth.
Diverse Industry Sectors and Economic Facilitation
KEPZ unfurls its gates to a multifaceted tapestry of industries, encapsulating textiles, garments, electronics, automotive parts, and chemical domains. This eclectic portfolio illustrates its adaptability to accommodate varied industrial realms, optimizing the potential for inter-industry collaboration and innovation.
Central to KEPZ's operational framework is its robust and contemporary infrastructure. This encompasses a spectrum of tangible elements—industrial plots, factories, warehouses, and offices—cohesively designed to harmonize with the demands of modern industry. The zone's vitality is further underscored by the provision of pivotal utilities, encompassing water, electricity, and gas.
KEPZ extends an array of strategic incentives to investors, encompassing tax exemptions, duty-free importation of machinery and equipment, and streamlined customs procedures. This distinctive milieu enhances its allure, fostering a conducive environment for commercial ventures.
Enabling Economic Stimulation at Karachi Export Processing Zone
A notable facet of KEPZ's narrative lies in its capacity to generate substantial employment avenues. Host to diverse industries and businesses, the zone emerges as a nexus where skilled individuals can actively contribute to the industrial landscape.
KEPZ stands as a juncture of connectivity, offering seamless access to sea and air ports. This vantage point expedites the movement of goods, thereby augmenting export and import processes with heightened efficiency.
Interwoven into the fabric of KEPZ's design is its strategic linkage to pivotal transportation routes. This integration manifests through its proximity to the Karachi Port and Jinnah International Airport, fortifying its role as a pivotal node within Pakistan's industrial and logistical framework.
Fostering Financial Endeavors: Investment Influence
Over the annals of time, KEPZ has garnered a cohort of local and foreign investors, substantiating its role as an instrumental agent in advancing Pakistan's export trajectory. The investments encapsulate diverse industries, thereby amplifying economic buoyancy.
In adherence to regulatory requisites, KEPZ operates under the stipulations and directives delineated by the Export Processing Zones Authority of Pakistan. This adherence underscores its commitment to procedural compliance and operational integrity.
KEPZ's evolution embarks on a trajectory of expansion and modernization. This envisioned augmentation seeks to accommodate burgeoning demands and elevate its industrial acumen. Discussions surrounding this blueprint allude to a promising future enriched with enhanced capabilities.
In summation, the Karachi Export Processing Zone (KEPZ) crystallizes into an industrial epicenter of paramount significance. Its strategic placement, integrated infrastructure, diverse industry outreach, and regulatory framework synergize to cultivate an environment conducive to economic dynamism. As discussions for expansion underscore its trajectory, KEPZ continues to shape Pakistan's industrial horizons with unwavering dedication and strategic impetus.
Karachi Export Processing Zone Phases

Fully in operation, garment is the dominant sector followed by electronics, chemicals etc. This phase is fully allotted to the investors, however plots can be acquired under sale/transfer procedures with the existing investors if they wish to sell.
Development of infrastructure is complete. Twelve acres are allocated for Hi-tech, Gem & Jewelry, Technology based industries. Y.K.K have acquired 46000 sq.metres for production of garment accessories.
Additional Details
Total area: Phase I – 211 acres; Phase II – 94 acres
Key industrial sectors: New investors are welcome in the following priority sectors: i) Hi-Tech Industry ii) Gem & Jewelry iii) Software Houses iv) Information Technology Based Industries v) Precision Engineering
Electricity supply: Optic-fiber network (Capacity 4000 lines)
Natural gas: Optic-fiber network (Capacity 4000 lines)
Water supply: 500,000 gallons/day
Telecommunications: Optic-fiber network (Capacity 4000 lines) for phase II
Tax incentives: Duty free import of all goods