United Arab Emirates - ميناء الخليفة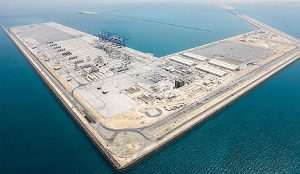 Khalifa Port in Abu Dhabi is the main deepwater port built to accommodate the largest ships existing. It handles all of the emirate's container traffic.
Khalifa Port has a Phase 1 capacity of 2.5 million TEUs and 12 million tonnes of general cargo a year and an expected capacity of 15 million TEUs and 35 million tonnes of general cargo by 2030.
The deep-water port is the first semi-automated container port in the GCC region. The port's 8-km long breakwater, the longest in the Middle East, allows the Gulf's currents to flow freely, while protecting and preserving the local marine ecosystem. The port features state-of-the-art maritime infrastructure, including twelve of the world's largest ship-to-shore quay cranes, 42 automated stacking cranes and 20 straddle carriers.
he port is conveniently accessible with minimal deviation from the Straits of Hormuz by vessels trading in the region, as well as from the main population centers of Abu Dhabi and Dubai and their airports. Rail connection also expected in near future.
HIGHWAY DISTANCES:
Abu Dhabi City 60 km
Abu Dhabi Int'l Airport 30 km
Al Ain City 170 km
Al Ain Int'l Airport 170 km
Jebel Ali 45 km
Dubai Central Al Maktoum Airport 50 km
Dubai City 75 km
Dubai Int'l Airport 85 km
KHALIFA PORT FACILITIES
General information
As part of KIZAD (Khalifa Industrial Zone Abu Dhabi), Khalifa Port is truly a business hub that provides businesses with access to the global markets that offers virtually unlimited opportunities for growth and expansion.
Khalifa Port consists of two parts, popularly referred to as "offshore" and "onshore".
Facilities "onshore" include the documentation center, customs facilities, mosque, a food court and other facilities such as office space for customers and other stakeholders. The security gate, which is controlled by Abu Dhabi Ports, the port authority, is also located "onshore".
Container Terminal
The container terminal currently offers specifications as outlined below, but the master plan calls for a staged development that will eventually offer an annual throughput capacity of 5 million TEU. "Offshore" is the reclaimed island that includes the actual container terminal with gates, warehouses and other storage as well as a number of other value-added services.