United Arab Emirates - منطقة خليفة الصناعية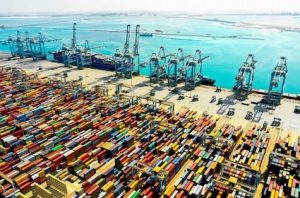 Khalifa Industrial Zone in Abu Dhabi was officially opened in 2012, specialising in industrial activities, logistics and trading. The zone is attractive in being being attached to Khalifa Port.
The Khalifa Industrial Zone is 417 sq. kilometres and is strategically located halfway between Abu Dhabi and Dubai. It is considered as a serious competitor to the Jebel Ali Free Zone.
The zone contains various large complimentary components such as a dedicated logistics park, a free trade zone and the largest anchor tenant Emirates Global Aluminum (EMAL), which aims to be one of the world's largest single-site aluminum smelters. This can support manufacturing requiring alumimiun such as transportation equipment, building materials and engineering products.
By 2030, the zone is expected to contribute up to 15% of the emirate's non-oil GDP.
Free Zone and Domestic Industrial Zone Facilities
KIZAD offers both Free Zone and Domestic Industrial Zone
facilities for investors, who can choose their facilities based. on their business strategy and requirements.
Free Zone
The Free Zone jurisdiction allows 100% foreign ownership in companies, and it is suitable
for wholesale distributors, re-exporters, warehousing activities, service providers and
manufacturers targeting markets outside the MENA region.
100% foreign ownership in companies
0% customs duty
0% corporate, personal and sales tax
No restrictions on capital and profit repatriation
Designated Zone for VAT Exemption
No minimum capital requirements
Domestic Industrial Zone
Companies in the domestic industrial zone can enjoy direct access to the markets in the
UAE and the GCC area. Goods produced in the domestic industrial zone can be certified
"MADE IN UAE" by the relevant authorities and can avail duty-free status in the GCC region.
Joint venture with a UAE partner
0% corporate, personal and sales tax
0% customs duty for industrial raw materials and machinery
Easy repatriation of profits and capital
'MADE IN UAE' certificate for qualified products
Potential for duty-free trade in the GCC
Value proposition for key industries at Khalifa Industrial Zone
Logistics
Trans-shipment hub with over 1,000 port-to-port connections
Port-side developments
– Development of new terminals by MSC and COSCO
– Increase in port capacity – from 2.5 million TEU
to 9 million TEU in the next 5 years
Steady growth in the number of factories and
distribution businesses
Perfectly located to cater to the domestic and regional markets
Metals
The most competitive utility rates in the UAE
Onsite availability of power, gas and water
Close to major anchor industries supplying raw materials
– Emirates Global Aluminium, Emirates Steel.
Dedicated infrastructure for downstream metals
processing activities
– High capacity power network
– Hot metal road enabling hot metal in liquid form to be
transported from the supplier to the factory
Food PROCESSING & agtech
Pollution-free operating environment
Reliable supply of clean water, power and gas
Efficient infrastructure for waste management
Advanced laboratory services for testing and certifications
Value chain activities such as printing, packaging
and specialised logistics solutions in the zone
Polymers
Developed in strategic partnerships with key industry players
such as ADNOC
Key raw materials suppliers within the park and in the region
– Mega distribution centre of Borouge present in KIZAD
– Easy access to raw materials from Saudi Arabia, Oman,
Kuwait and Bahrain
Polymer-centric logistics and infrastructure
– Permanent and semi-permanent warehouses
– Annual throughput exceeding 1.5 million tonnes
– Specialised logistics service providers within the park
– Three fully automated "Fill, Form, Seal" (FFS) polymer
packing lines
– One bulk bag filling line
– Overall packing capacity of more than 700,000
tonnes per year