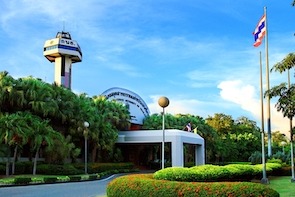 Thailand - นิคมอุตสาหกรรมแหลมฉบัง
Laem Chabang Industrial Estate is strategically situated on a 569-hectare plot between the harbor and Sukhumvit Road in Thung Sukhla subdistrict. This dynamic estate comprises three distinct zones catering to diverse industrial needs.
Zones at Laem Chabang Industrial Estate
General Industrial Zone: Covering an expansive 292 hectares, this zone accommodates around 80 factories, including prominent names such as Mitsubishi Motors, Fujitsu, and Michelin Siam Company. The diversity of industries ranges from automotive to electronics, reflecting its robust ecosystem.
Free Business Zone: Spanning 157 hectares, the free zone provides a conducive environment for international investors. It witnessed 26 companies in its first phase and has grown to house 40 companies in the second phase, offering attractive opportunities for global businesses.
Government and Public Utility Zone: Encompassing 121 hectares, this zone features key players like TOT Public Company, Eastern Investment Economic Center (BOI), and CAT Telecom Public Company Limited. The presence of these entities strengthens the infrastructure and support services.
Strategically positioned in close proximity to Laem Chabang, Thailand's principal deep seaport, the estate stands out as a sought-after destination for industrial ventures.
Established in 1982, Laemchabang Industrial Estate spans approximately 3,556 rai (569 hectares) and lies merely a kilometer away from Laemchabang Deep Seaport in Chonburi province. Situated within the Eastern Economic Corridor (EEC), the estate boasts essential utilities:
Utilities
Power supply: Provided by the Provincial Electricity Authority (PEA).
Water supply: Supplied by East Water Co., a subsidiary of the Provincial Waterworks Authority (PWA), facilitated through IEAT.
Waste water treatment plant: Operates using an Activated Sludge System.
The estate plays a vital role in supporting the Eastern Economic Corridor's investments, serving as a catalyst for growth and prosperity.
Laem Chabang Industrial Estate is more than an industrial hub; it is a testament to Thailand's commitment to economic advancement. Its vast expanse, modern infrastructure, and convenient facilities make it a preferred destination for over 1,200 industrial establishments, producing an array of products, from automobiles and electronics to petrochemicals and food and beverages.
Diverse industries converge within LCBI's modern and comprehensive ecosystem. Equipped with various conveniences like roads, electricity, water supply, wastewater treatment, safety measures, and telecommunication, the estate's well-rounded offerings ensure a conducive environment for innovation and growth.
Furthermore, the estate's proximity to the expansive Laem Chabang Deep Seaport, the largest of its kind in Thailand, facilitates seamless international trade and transportation, bolstering the nation's economic landscape.
Supporting the Thai economy
With its significant contributions to the Thai economy, providing employment for over 100,000 individuals in the area and generating annual revenue exceeding 10 billion baht for the government, Laem Chabang Industrial Estate stands as a driving force in transforming Thailand into a hub for production and trade in Southeast Asia.
Facilitating modern infrastructure, including reinforced concrete roads, storm and sewage drainage systems, industrial-standard fencing, sliding steel gates, and robust guard houses, the estate encompasses the elements needed to support thriving industries while ensuring a secure and well-organized environment.
Laem Chabang Industrial Estate is located on an area of 569 hectares (1,406 acres) between the harbor and Sukhumvit Road, Thung Sukhla subdistrict. The estate is divided into three sections.
The biggest section is the General industrial zone, 292 hectares (721 acres) with approximately 80 factories, including Mitsubishi Motors factory, Fujitsu and Michelin Siam Company.
Additional Details of Laem Chabang Industrial Estate
Total area: 569 hectares (3,556 rai)
Developer: Industrial Estate Authority of Thailand
Year opened: 1982
Seaport: Laem Chabang Deep Sea Port: 1 kilometer
Airport: Suvarnabhumi International Airport: 120 kilometers
Free trade/bonded area: I-EA-T Free Zone: 979 rai