Iran - حديقة بركة العوامر اللوجستية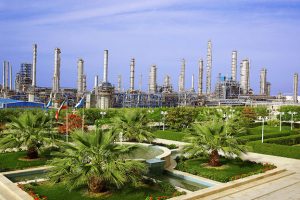 Petrochemical Special Economic Zone, has an area of about 2,850 hectares. It is located on the northern coast of Persian Gulf in the city of Mahshahr. The zone is in Bandar Imam district, southwest of Iran.
Due to its natural and geographical location, as well as the legal facilities that it offers, this zone has been created to further develop the industry and trade of petrochemicals. By attracting new technologies and generating employment opportunities, the zone also provides economic and social benefits.
From the geographical point of view, the Zone has access to the international waters through Bandar Imam and Khor Mosa Firth. It's also connected to Turkey and Central Asian countries via the national railway grid.
This region, which is a part of Khuzestan province, plays a strategic role in Iran's oil and gas industry. Access to oil and gas resources further facilitates the supply of raw materials and feed to industrial units in the Zone.
Petrochemical Special Economic Zone Organization was established, as a subsidiary of the National Petrochemical Company. This is for the management and realization of industrial and economic development activities in the region. This is including development of petrochemical industries. Following a decree issued in 1997 by the Supreme Council of Free Trade-Industries Special Economic Zone, the organization began its work in 1998. It invited foreign and domestic investors to invest in this important petrochemical hub.
Mission of the zone
The goals behind the creation of the zone are to encourage foreign and local investors to participate in developing Iran's petrochemical industry. Plus increasing petrochemical exports and manufactured products as well as boosting mobility in the industry and trade. This will support growth in the regional economy.
The overall area covers various functions including jetties and refinery. An industrial base has been set up for the development of petrochemical intermediate and downstream industries. Some sections of the site have been allocated for various functions. These include petrochemical downstream industries, chemical industries, department of electricity and electronics. Others are construction, metal, machinery, laboratory and quality control, equipment maintenance units. As well as administrative, services, residential units and commercial booths.