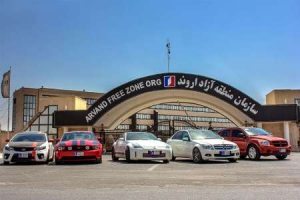 Arvand Free Zone was established in 2001. It is located in the south of Iran in close proximity to the coast and Kuwait. Arvand Free Zone is established for a wide range of purposes with 8,600 hectares dedicated for industrial split between Abadan and Khorramshahr industrial sites. The zone is operated by an organization with an independent legal personality whose capital belongs to the state. This organization and its affiliated companies are exempted from the laws and regulations governing state-owned companies. Plus other public regulations are governed solely by the law. They respect how to administer free trade-industrial zones of the Islamic Republic of Iran and their respective constitutions.
1- Rapid, easy and cheap access to regional and global markets through road, rail, air and marine transportation.
2- Cheap energy.
3- Infrastructure for export, import and transit of goods.
4- Possibility of access to skilled & cheap workforce.
5- facilities and installation of industrial and municipal infrastructure.
6- Abadan International Airport.
7- Khorramshahr port with port facilities and equipment for containerized and non-containerized goods.
8- Facilities of dry port and Shalamcheh bordering market for exporting to Iraq.
9- Abadan Oil Refinery.
10- Available infrastructures of rail and road network in the region and having the potential of expanding railway network.
11- Existence of country's three main rivers in the region.
12- Capability of accepting immigrants and familiarity of people with other languages.
13- Possibility of expanding agriculture with reclamation of cultivable lands.
Understanding the Potential of Shalamcheh border
Iraq has a strong need for a variety of goods and services, which have created an exceptional opportunity for neighboring countries, including Iran. An opportunity which is not properly planned for, the bitter experience of losing opportunities in the Commonwealth of Independent States and Afghanistan will be repeated. This management, with the aim of identifying current status of Iranian exports to Iraq, identifying obstacles and problems, analyzing and evaluating, has defined these projects in the short term, the results are as follows:
55 Hectares Zone
With the establishment of infrastructures and equipment for servicing hundreds of transit and export trucks, Arvand Free Zone Organization has provided a suitable platform for the growth and development of foreign trade in the region. It is expected that with the growth of the existing investment and the appropriate placement that is being created in Shalamcheh by Arvand Free Zone Organization, there will be a significant shift towards the goals and policies of foreign trade in the region, province and the country.
Shalamcheh Logistics Park
The concept of the logistics park is directly linked to the intercontinental terminals through railways. In these terminals, the containers are moved in the same way as if they were moving in the sea ports. The results show that the concept of a logistic park can help identify ways of transferring product volumes from roads to transport methods more efficiently in terms of energy consumption that lessen the environmental impact of the workload in sea ports to reduce shipping costs, work on solutions and provide better logistics for shipping vessels in the offshore areas of sea ports.
Shalamcheh border in Arvand Free Zone as one of the country's gates for business and transit operations, due to its unique geographical location and the possibility of using road, rail, marine and air transportation, can be easily and quickly operated. With Iraq, the Gulf states, countries of Central Asia, Caucasus and the Mediterranean, a 700-hectare plot of land for the construction of "logistics park" in Shalamcheh has been created and is being hand over to qualified investors in the form of parts for logistics, transportation, transit and so on.
The most important goals for launching Shalamcheh Logistics Park

Increasing port services inside the country
Reducing the demand for coastal lands use
Increasing transportation efficiency
Improving transportation situation related to infrastructure
Improving financial and economic conditions
Increasing foreign direct investment
Accelerating economic development and logistical integration of the internal regions of the country
Reducing environmental [negative] impacts