Jordan - مدينة الحسن الصناعية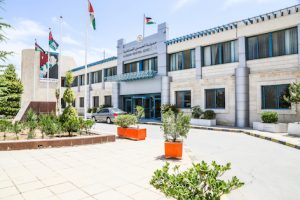 Al-Hassan Industrial Estate is the first and largest Qualifying Industrial Zone in Jordan. These zones allow free tariffs into the USA based on a certain value added and Israeli manufactured quotient. Al-Hassan Industrial Estate is located 72 km from the capital Amman and also close to the Israeli border. There are over 150 manufacturers operating in the zone.
Developed in three phases with a total area of 117.8 hectares. Al Hassan Industrial Estate has total invested capital of more than JD 489.5 million (689 million USD) creating over 36,000 Job opportunities.
Additional Details
Total area: 117.8 hectares
Year opened1991
Key industrial sectors: Garments, Electronics.

Amman Airport Transfer to any Amman Hotel - $44.00
from:
Viator, A Tripadvisor Company
Find our more about industrial estates in Jordan
An expansion project at Al Hassan Industrial Estate (HIE) is proceeding according to plan with 70 per cent completion of the work in 2021, according to Jordan Industrial Estates Company (JIEC).
The expansion project will be completed and ready to attract more investments in 2022.
The project includes typical industrial buildings of about 18,000 square metres, roads, water, sewage, electricity. Plus communications networks, lighting and other infrastructure services.
The project will boost capacity at the facility, which accounts for more than 80 per cent of the Irbid governorate's industrial exports. In addition to the job opportunities the expansion will create.
The estate exported JD600 million worth of goods in the first 8 months of 2022, while the value of imports in the same period amounted to JD330 million.
This year, the center dealt with a total of 14,314 customs declarations at HIE and 1,100 customs declarations in Cyber City, which also falls within its jurisdiction, with the value of customs proceeds amounting to some JD2.9 million. By the end of the year, the proceeds are expected to exceed JD3 million.