Kuwait - منطقة الشدادية الصناعية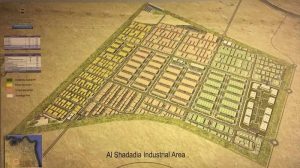 Al Shadadiya Industrial Zone site is situated in the southwestern area of Kuwait City. It is approximately 25 km from the city centre. The new industrial area provides the State of Kuwait. It is a modern and attractive area to meet the high demand for industrial zone land. The plan is have a food zone, a mixed-use zone and a chemical zone. Construction has been underway since 2018.
It aims to address the problem of limited industrial land and meet the needs of investors for the necessary spaces to establish their industrial projects. This is by providing 1,036 industrial plots for food and chemical industries and other various industrial activities, with different areas ranging from 1,000 to 10,000 square meters.
Three plants for the treatment of industrial waste, and one plant for the treatment of sewage waste have been provided.
Additional Details
Total area: 500 hectares.
Developer: Public Authority for Industry.
According to a report from the Public Authority for Industry (PAI), the project for the design, implementation, completion and maintenance of the infrastructure of Shadadiya Industrial Zone encounters 'stumbling-blocks' ", reports Al-Qabas daily. Nearly a decade since that high-profile groundbreaking ceremony, basic infrastructure work for the zone still remains a work in progress.
Small-Group Enduro Dirt Bike Guided Tour in Kuwait – $410.00

Kuwait's First Enduro Dirt Bike Guided Trips!

To reshape people's perspective of Kuwait and their assumptions about our country, we are championing a more exciting and forward-thinking lifestyle. One that centers on extreme sports, excellence, and adventure. We aim to enhance people's dopamine, afford them access to the flow state, and guide them toward their ultimate peak performance.

To reach these goals, we are creating and launching services inside the country and then around the world. By intriguing and engaging people will alter their perspectives of themselves and our country simultaneously, exhibiting for them the excitement that we know to be possible in Kuwait as well as self-confidence and strength they can carry forth into their own lives.