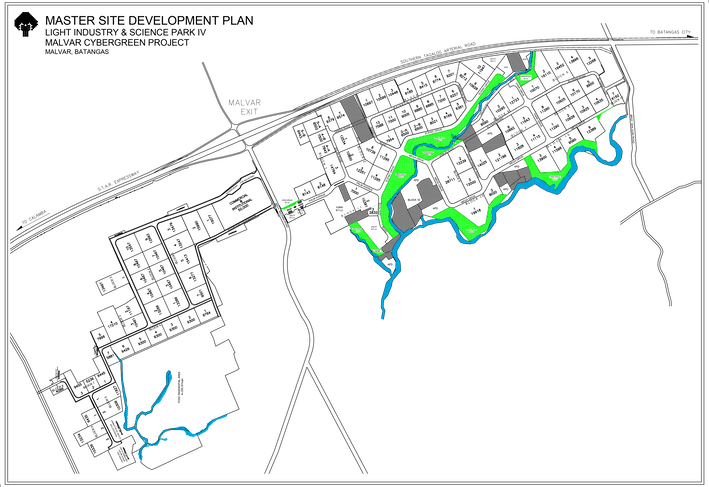 Nestled in the picturesque plains of Malvar, Batangas, Light Industry & Science Park IV (LISP IV) stands as the pinnacle of integrated industrial living. Developed by Science Park of the Philippines, Inc. (SPPI), this expansive project encompasses a 232-hectare industrial zone, a vibrant 5-hectare retail and institutional hub, and a sprawling 37-hectare residential neighborhood. Let's delve into the features that make LISP IV a prime investment destination.
The Ideal Live-Work Community
LISP IV goes beyond the conventional industrial park. With meticulous planning, it cultivates a live-work community ethos. The industrial area, encompassing 232 hectares, caters to light manufacturing locators. Meanwhile, a bustling retail and institutional district spanning 5 hectares offers convenience, while the residential neighborhood spanning 37 hectares ensures that life's essentials are just a stone's throw away.
Strategically situated alongside the Southern Tagalog Arterial Road (STAR), LISP IV enjoys seamless connectivity to Metro Manila's Commercial Business District. Located in Malvar, Batangas, it offers the best of both worlds – proximity to the city while maintaining a serene suburban charm. Notably, it's just 35 kilometers from Batangas International Seaport, making it a strategic hub for both domestic and international trade.
Infrastructure at Light Industry & Science Park IV
SPPI's commitment to providing world-class facilities is evident in LISP IV's complete infrastructure. A robust electric grid, reliable water supply system, advanced security measures, and on-site fire-fighting capabilities are just a few highlights. Transportation within the estate, healthcare facilities, and even freight forwarding services are offered to cater to the needs of locators.
The on-ground management team at LISP IV is a testament to SPPI's commitment to operational excellence. Composed of experienced professionals, they oversee common facility maintenance, security, safety, and regulatory compliance. This ensures seamless operations for locators, fostering an environment of productivity and growth.
LISP IV's track record speaks for itself. YCO Global Cloud Centers (YCC), the latest addition to its roster, is set to invest around USD 500 million over the next three years, establishing a cutting-edge data center. Other significant investors include Farmesa Asia Pacific, Inc., and Monde Nissin Corporation. These partnerships underscore the trust and potential that LISP IV offers to diverse industries.
Unleash Your Business's Potential at Light Industry & Science Park IV
Whether you're a light manufacturing enterprise seeking a strategic location, a retailer eyeing a vibrant commercial hub, or a resident searching for a thriving community, LISP IV is your destination. With its visionary planning, impeccable infrastructure, and successful track record, it's poised to drive growth for years to come. From industrial pioneers to thriving communities, LISP IV welcomes you to a world of endless possibilities.
Lying in the grassy plains of Malvar, Batangas, LISP IV is the latest industrial estate project by Science Park of the Philippines, Inc. (SPPI). It has numerous advantages, including the ability to withstand the worst recorded flooding in the area in a hundred years, and is ready for development by light manufacturing locators.
The light industrial park is part of a mixed-use property development called Malvar Cybergreen. It will be complemented by a 50-hectare commercial, institutional and residential area. About 35% of its original landscape will be maintained to preserve an environmental element that increases the quality of the park.
LISP IV is strategically located alongside the Southern Tagalog Arterial Road (STAR), providing convenient access from Metro Manila's Commercial Business District. It is also just 35 kilometers away from Batangas International Seaport.
The industrial park has ready access to amenities and the necessary infrastructure in place for manufacturing operations.