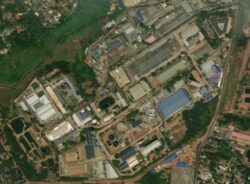 Sri Lanka - ලින්ඩෙල් ඉන්දුස්ට්‍රියල් කාර්යාලය,
In Sri Lanka, a groundbreaking endeavor took root in 1992 with the establishment of LINDEL Industrial Estate, a flagship project by Lanka Industrial Estates Ltd. (LINDEL), a subsidiary of DFCC Bank PLC. As the country's premier private sector-owned and operated industrial estate, LINDEL embarked on its mission to develop, operate, and manage industrial estates within Sri Lanka. Its maiden endeavor involved the transformation of the defunct State Fertilizer Manufacturing Corporation's infrastructure at Sapugaskanda into the pioneering LINDEL Industrial Estate.
LINDEL prides itself on delivering an unparalleled spectrum of infrastructure and allied services to its clientele. Its relentless pursuit of excellence strives to surpass industry standards, setting a new benchmark for industrial estates within Sri Lanka. A collaborative effort between DFCC Bank PLC and the Government of Sri Lanka, LINDEL Industrial Estate stands as a resounding success story of public-private partnership. Stretching over 125 acres, the estate is a thriving ecosystem housing several enterprises, including prestigious Fortune 500 companies.
Inaugurating the LINDEL industrial Estate experience
Lanka Industrial Estates Ltd (LINDEL), a subsidiary of DFCC Bank PLC, entered the scene in 1992 as a strategic alliance between the bank and the Sri Lankan government. The company's primary objective was to metamorphose the site of the State Fertilizer Manufacturing Corporation at Sapugaskanda into an industrial estate. Thus, LINDEL emerged as Sri Lanka's inaugural private sector-owned industrial estate developer and operator. Presently occupying 105 acres, the Sapugaskanda site houses 36 diverse businesses, spanning Agriculture, Chemicals, FMCG, Logistics, Lubricants, Metal Fabrication, Packaging, and Power Generation. With a commitment to complete infrastructure and utilities provision, LINDEL consistently invests in enhancing and maintaining its service offerings.
Ensuring client satisfaction, LINDEL takes immense pride in surpassing industry standards, rendering superior services that outshine the competition within Sri Lanka.
Unilever Sri Lanka: Localizing Production through LINDEL
Unilever Sri Lanka, a stalwart in the nation's industrial landscape, embarked on a noteworthy venture at the LINDEL zone in Sapugaskanda. This endeavor, marked by the construction of its Malted Beverage Plant, signifies Unilever's commitment to localized production of malted food drink brands. Representing an investment of Rs. 4 billion, this initiative aligns with Unilever's mission to contribute to the nourishment of a million Sri Lankan lives. The plant, equipped with state-of-the-art Vacuum Bran Dryer technology, ensures the quality and consistency of products like Viva and Horlicks. This cutting-edge facility secures a sustainable supply of high-quality beverages, infused with the nourishing essence of malt and barley.
Lanka Special Steels: Elevating Capacity with LINDEL Industrial Estate
The E.B. Creasy Group's Lanka Special Steels (LSSL), renowned for GI wire manufacturing, unveiled its advanced manufacturing facility within LINDEL Industrial Estate at Sapugaskanda. Bolstered by world-class European machinery, this milestone marks a significant leap forward in LSSL's journey to enhance production capacity and extend its market influence. With an investment of Rs. 1200 million, LSSL aims to elevate its production capacity from 15,000 MT to 30,000 MT per annum. This strategic expansion empowers LSSL to cater to growing domestic demands and fortify its position as a robust contender in the export market.
Nestled in close proximity to the Sapugaskanda Refinery, LINDEL Industrial Estate benefits from its strategic locale. This expansive oil refinery, the largest in Sri Lanka, was established in 1969 and stands as a vital national asset. Covering an extensive area of 165 acres, the refinery boasts a capacity of 50,000 barrels per stream day. The refinery's in-house utilities section caters to operational necessities, contributing to seamless operations. A vast array of storage tanks, including those for crude oil and finished products, complement the facility.
Recognitions and Accolades
LINDEL's unwavering commitment to excellence earned it the prestigious TAGS Silver Award for Best Annual Report in the Land and Property Sector. This recognition echoes LINDEL's dedication to transparency and industry-best practices, solidifying its position as a vanguard in Sri Lanka's industrial infrastructure landscape.
LINDEL Industrial Estate's transformative journey underscores the synergy between private and public sectors in driving innovation, economic growth, and sustainable development within Sri Lanka.
Additional Details
Total area: 125 acres
Plot sizes: Industrial plots in one to four acre lots
Electricity supply: A 10 MW primary substation located within the Industrial Estate and maintained by the Ceylon Electricity Board. It supplies three-phase electricity through a 11 KV grid system
Wastewater treatment: Waste water pre-treated by industrialists which conforms to the pre-treatment standard prescribed by LINDEL. Collected into a common effluent pond through a network of pipe lines. Then further treated by LINDEL before discharging into the Kelani river.
Water supply: Capable of supplying up to 9,000 cubic metres of treated water per day.
Drainage / flood protection: A network of built up drains and culverts drain storm water up to an hourly intensity of 50 mm of rainfall making it adequate to cover the maximum rain intensity in Sri Lanka.
Security: Located in a high security zone which is under close scrutiny by the Police and the Army. The Ceylon Petroleum Corporation's Refinery, diesel power plants, and other important installations are close.
Internal road system