Vietnam - Công viên công nghệ Long Bình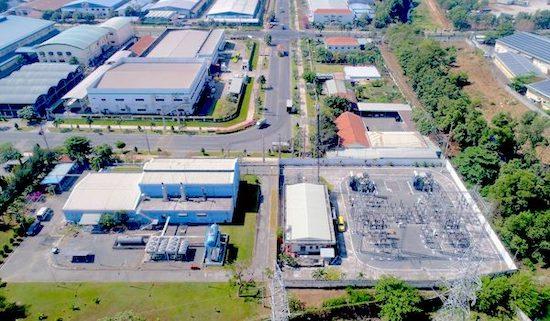 Established in 1996, Long Binh Techno Park (LOTECO) stands as a testament to the productive collaboration between Sojitz Corporation (Japan) and ThaiSon Group (Vietnam). This joint venture, with a committed investment of 41 million USD for the initial 100 hectares of its first phase, has strategically positioned itself as an industrial powerhouse in Dong Nai province. LOTECO's investment ratio echoes its strength – Sojitz Corporation commands 60%, while Thaison Group holds 40%.
LOTECO caters to distinct requirements, offering two key products: land and built-factory structures tailored to the tenants' specifications. However, what truly sets LOTECO apart is its incorporation of an export processing zone within the industrial park – a remarkable feature that distinguishes it in Dong Nai province. The advantages that emanate from this unique blend have firmly positioned LOTECO as an esteemed choice for foreign investors seeking reliable ventures.
Integrated Infrastructure at Long Binh Techno Park
LOTECO's infrastructure investment exceeds 37.5 million USD and continues to advance, underscoring its commitment to seamless operations. The park boasts a robust power supply system with 2 transformers each capable of 63MVA -110kV/22kV, ensuring uninterrupted energy flow. Equally impressive is its waste water treatment plant, processing up to 10,600m3 per day. This fully-integrated infrastructure places LOTECO at an advantageous position, with the capacity to support an additional 100 hectares of development. Presently, LOTECO accommodates 49 tenants from diverse countries including Japan, Korea, Taiwan, Singapore, and more. Collectively, these tenants have committed a total legal investment of approximately 215 million USD.
LOTECO is steadfast in its selection process, embracing projects driven by modern technologies while minimizing environmental impact. Industries span electronic, mechanical, and garments, among others. Eminent investors like Yupoong, Muto, Taewang Vina, and Suzuki have thrived within LOTECO's ecosystem, showcasing effective operations and contributions to the local economy.
Quality Assurance and Vision
Operational excellence is embodied in LOTECO's adherence to ISO 9001 for Quality Management and ISO 14001 for Environmental Management. A focal point remains on delivering services of unparalleled quality with an eco-friendly focus. Supported by a dedicated and seasoned workforce, LOTECO is relentless in its pursuit of tenants' triumphs. As it forges ahead, the park extends an open invitation to foreign investors, encouraging them to explore the opportunities within Vietnam's promising landscape.
Situated in Bien Hoa City, Dong Nai Province, Vietnam, LOTECO enjoys a strategic locale. It is proximate to National Highway No.1, which interconnects the capitals of Hanoi and Ho Chi Minh City, while also being in close proximity to National Highway No.51, a route to the Cai Mep-Thi Vai Port.
Furthermore, the ease of transportation is noteworthy. With just a 40-50-minute drive, LOTECO connects to the heart of Ho Chi Minh City, Tan Son Nhat International Airport, and Cat Lai Port – a vital hub managing approximately half of Vietnam's container shipments. This well-connected network involving air, water, and road transport lends LOTECO a strategic edge, optimizing material, part, and production transportation time and costs.
Additional Details for Long Binh Techno Park
Wastewater treatment: Using a modern biological sewage processing system
Water supply: Available 6,000m3/ day from Dong Nai Water Plant; 15,000m3/ day, capacity increases upon clients' consumption
Ready built factories: Rental factory will be designed and offered tenant's factory standard requirements
Tenants in Export Processing Zone at Long Binh Techno Park
1 Aureole BCD Co., Ltd Electronic parts, Plastic parts
2 FC Vietnam Co., Ltd Ink ribbon
3 Fulien Company Limited Garment products
4 Harada Industries Vietnam Co., Ltd Automobile antenna
5 Nec Tokin Electronics Vietnam Co., Ltd Electronic parts
6 Tomiya Summit Garment Export Co., Ltd Garment products
7 Vega Fashion Co., Ltd Garment products
8 Yupoong VN Co., Ltd Headwear products
Tenants in Industrial Zone
1 Aureole Fine Chemical Products Co., Ltd Chemical products
2 Arirang Chemical Co. Ltd. Printer ink
3 Boram Forging Co., Ltd Automobile, motobike parts
4 Chienta Bolt Co., Ltd. Motor bike part
5 Deachang Rubber VN Co., Ltd. Rubber
6 Deuck woo Vietnam Co., Ltd Washing garment product
7 Dong Il Interlining Co., Ltd. Fabrics
8 Dong Jin Leiports Vina Co., Ltd Golf bags
9 DongJin Textile Vina Co., Ltd Weave
10 Dong Jin Viet Nam J.S.C Motor
11 Emico Vietnam Co., Ltd Plastic and metal products
12 Fujikura Electronics Viet Nam Ltd. Electronic parts
13 Gold Coin Feedmill Đong Nai Co., Ltd Feedmill
14 Green World Co., Ltd Food
15 Happy Cook Co., Ltd Cookware
16 Happys Water Co., Ltd ABS plastic
17 Hasung Vietnam Co., Ltd Steel fabrication
18 Jaeill Vietnam Co., Ltd Textile
19 Kaya Vina Co., Ltd Textile
20 Aureole Mitani Chemical & Environment Inc. Chemical products
21 Mitsuba M-Tech Vietnam Co., Ltd. Motorcycle parts
22 Muto VN Co., Ltd Plastic mold
23 Branch Long Binh of Olam Vietnam Co., Ltd Agricultural Commodities
24 Onishi Vietnam Co., Ltd Auger bits
25 Peaktop (Viet Nam) Co., Ltd Candles
26 Seorim Co., Ltd Flatware
27 Shinhan Vina Co., Ltd Chemical products
28 SM Alupack Co., Ltd Aluminium foil
29 Solar Rich Co., Ltd Motorcycle parts
30 Vietnam Suzuki Co., Ltd Motobike & car
31 Tae Kwang MTC Vina Co., Ltd. Shoes
32 Techchem Resin Co., Ltd Chemical resin, Formalin, industrial chemical
33 Thai Kodama (Vietnam) Co., Ltd. Plastic sheets
34 Three Brothers Industry Vietnam Co., Ltd Motorcycle parts
35 TTD INC Vietnam Co., Ltd Automobile parts
36 Ulhwa Viet Nam Co., Ltd Textile
37 KOYU & UNITEK CO., LTD. Food
38 Weizheng industry Viet nam Co., Ltd Paints
39 Young Jin Textile Viet Nam Co., Ltd Textile